---
My association with Basilicata's Mastrodomenico family has more or less existed since the start of my own career in the wine industry. I had just imported my first pallet of Aglianico into the UK when the phone rang. It was Giuseppe Mastrodomenico and he had unearthed my name and number from the latter pages of google after spotting a connection through my own ancestral affiliations to the region.
He informed me that he was a young producer with family vineyards cultivating Aglianico del Vulture. He articulated the wine making heritage of his family, particularly on his mother's side, and proudly proclaimed his vineyards as a source of fruit for some of the better known Vulture wines in circulation.
'Exciting things' he continued were on the horizon however. Not only had they produced their first wine to excellent acclaim, Giuseppe an engineer by trade was working on an agricultural traceability project called 'farm to fork' that had received EU funding. You can read more from the link but the concept uses technology in the vineyards to not only back up viticultural instinct with science, but also trace the conditions and origins of any final product. Great I would suggest for consumers who care about where their wines come from.
So, a few months later I landed at Naples airport and made my way way straight to Giuseppe's operation, despite him being away on business in Turin. I was guided through the sandy, eight hectare vineyard in Rapolla by his father Donato. He explained the philosophy of the company and passed on some of the nuggets of old knowledge (and stigma) that exists between the various villages that form the Aglianico del Vulture DOC.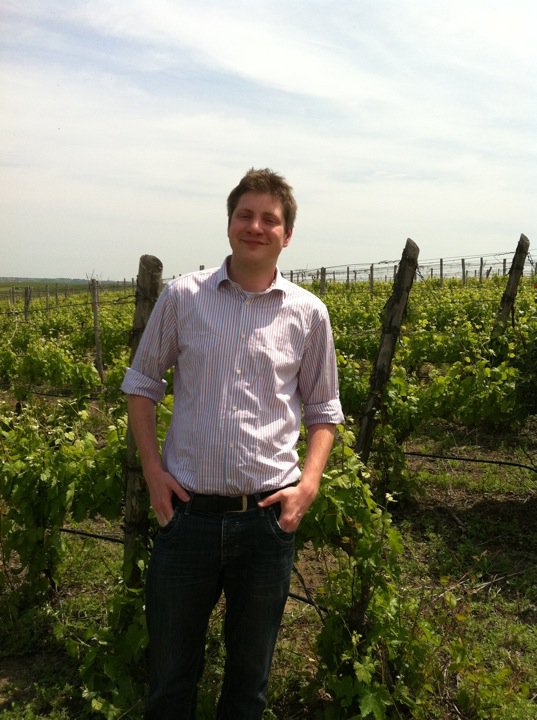 Months later I was back again for the harvest in mid October, this time having the opportunity to meet both Giuseppe and his sister Emanuela as well, both clearly passionate about their wine and their territory. We watched the family's first ever machine harvest and noted the peculiarity of the year. 2012 had been unusually hot and sugar levels were so high that the sheer concentration of the must would ultimately block their small press. It was fascinating to watch how artisan wines were actually made. We laboured our way through.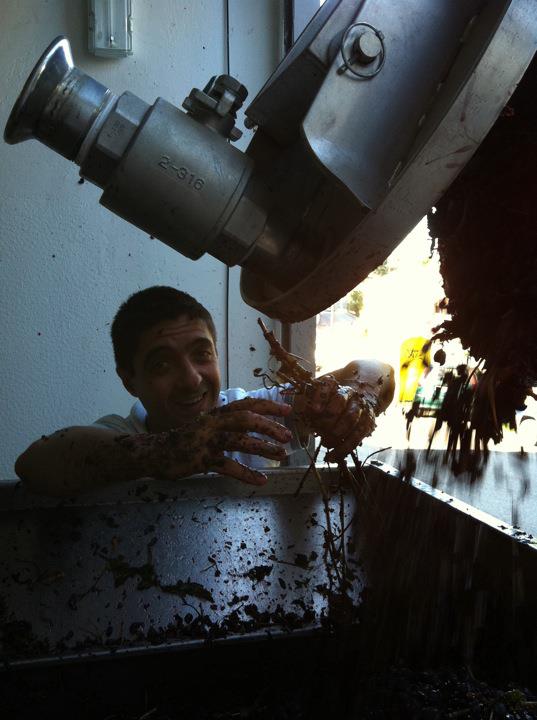 We hung out, ate grilled meat and local pasta dishes and even ventured into the cellar of a friend who Giuseppe claimed made the best wine in the area but whose modest maker had no interest in commercialising it.
We talked of the challenges facing local producers, the variety itself and as we sipped the previous year's wines alongside seasoned cheeses, we knew that the coming wines were going to be big wines. Baffled at how much sugar had been pressed, Giuseppe joked and jokingly suggested making a sweet wine. As we were going to be big wines, a sentiment that would ultimately find an outlet in the decision to release a passito wine, known as Shekàr.
I was to taste the new vintages again in 2014 at Vinitaly to find that the wines were evolving. Like many small producers in the Vulture zone, attempting to make wines without the luxury of their own expensive cellars means vintage variation plays a big part in the final wine. The wines are not manipulated into a more commercial style, instead released as windows into a particular year.
The Aglianico for Vigne Mastrodomenico's two wines is grown in Rapolla, the next village on from Barile, where they press and mature their grapes in an ancient cellar cut into the tufo rock. grproduce two wines in Barile, the heart of the Vulture and the heart of Basilicata's most iconic Aglianico del Vulture DOC. In hot years when the sugar is abundant they also produce a few hundred bottles of passito.
The wines were tasted unfiltered from the tank and showed promise. Aroma and flavour are there as is a firm tannic structure. Likos is generally powerful and ripe, but clearly in need of plenty of cellaring and a plate of home made food. Mos is, as intended, lighter and fruiter. Finally, I tasted the their latest release, a sweet passito wine now named Shekur.
I've been back to see how they are getting on a few times since. The wines are still excellent and despite the difficult market conditions, the company has matured. Vigne Mastrodomenico is a producer I always look out for and one that I would always recommend as a source of truly impressive Aglianico.
---
Aglianico del Vulture DOC 'Likos' 2007 by Vinge Mastrodomenico Strong and structured with plenty of blackberry fruit,
Aglianico del Vulture DOC 'Likos' 2011 by Vinge Mastrdomenico
Aglianico del Vulture DOC 'MOS' 2010 by Vinge Mastrdomenico Black cherry aromas, with slight fragrant notes of green.
Aglianico del Vulture DOC 'MOS' 2013 by Vinge Mastrdomenico Lovely enticing nose with some light notes of balsam, cola and herb. In the mouth it's soft and approachable, but with structure and strength. Really very nice.
---