Restaurant Review: Bentley's Oyster Bar & Grill (Mayfair, London)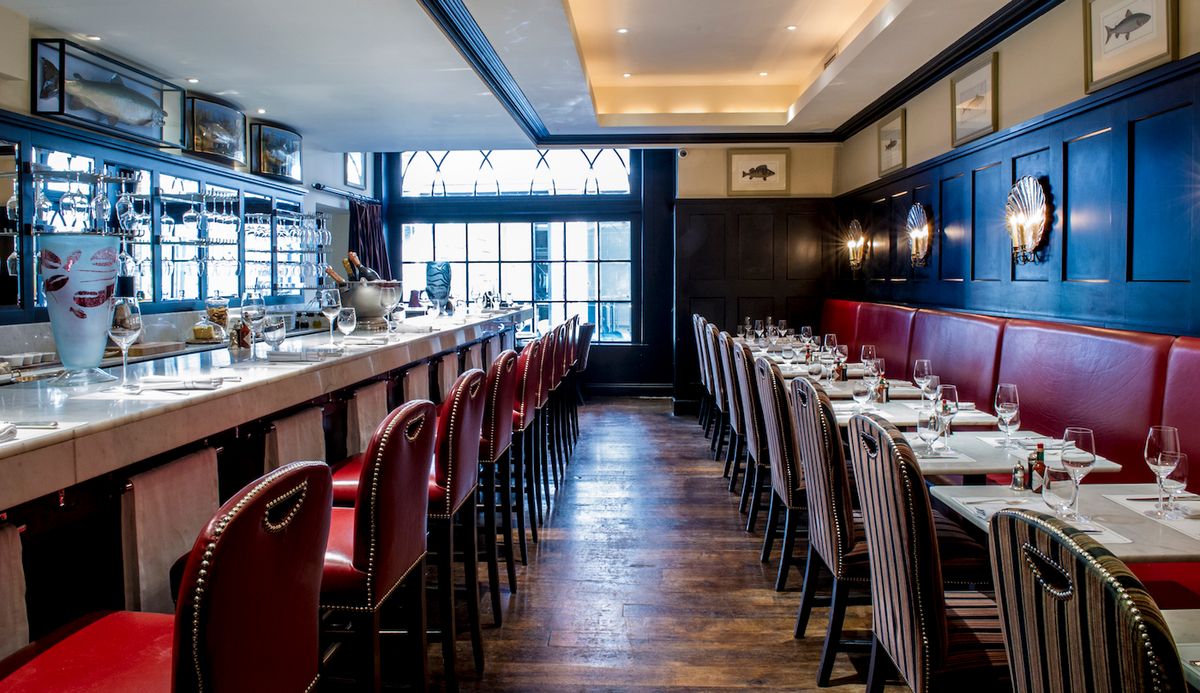 While Bentley's is widely known in London dining circles as one of the most popular seafood restaurants in the capital, this was to be my maiden voyage through a mouth-watering menu of native shellfish and refreshingly crisp white wines.
This historical eatery opened its doors in 1916 and while today's ambiance represents its swanky Mayfair postcode, it is hard to ignore the generations of characters that have likely built such impressive heritage. As I myself played the role, and ordered an indulgent aperitif, I couldn't help but ponder a bygone age of well dressed bon-viveurs and aristocrats, slurping oysters and popping corks.
While the venue caters for a more formal dining scene upstairs, it is the oyster bar & grill on the ground floor that offers the most authentic experience. Lunchtime clamours with the atmospheric bustle of business life, but with lashings of fun, induced no doubt by the inevitable frivolity that shellfish and Champagne inflict on the English reserve.
I had heard a great deal about the lively Irishman, Richard Corrigan, whose energy, passion and responsibilities have taken him from head chef to eventual owner in 2005. Sadly he wasn't in attendance, but his predominantly Italian team did him proud, their appetite for doing things properly emerging from the moment I arrived.
Despite a wane in popularity over recent decades there is something decidedly British about throwing back native oysters. I think its the flavours of briny salinity that evoke the grey ocean spray of these wet isles we call home.
Each brings their own personality to the table and its worth chewing, taking the time to savour the differences. Jersey oysters are bitter sweet, while the loch ryans offer a lingering metallic finish. The house philosophy is clear however; a dash of lemon and a sprinkle of black pepper is all you need.
After dispatching a glass of Ambonnay Grand Cru NV Brut from the quietly acclaimed Paul Déthune, alongside a house recommendation of Jersey, Menai and Dorset oysters served over ice, I opted for the shellfish cocktail. It has become a house special over the years and for good reason, overflowing as it is with fresh clams, prawn and crab. Give it some vinous lift with a glass of crisp, zesty Cortese from the village of Gavi.
The baked fish stew is not one for the timid; packed with a deluge of seafood treasure and immersed in a tomato driven sauce, it makes for a hearty lunch. I pitched it alongside a glass of the little known Nosiola from the Dolomites, but there is a wealth of suitable choice in the cellar.
For those wishing to round off (and write off?) the afternoon, the rich and succulently sweet Passito di Pantelleria sits well alongside the caramelised banana or chocolate marquis. I don't believe in paying too much attention to dessert in an establishment with 100 years of simple seafood history, but this is clearly an establishment with every inch of the menu thought about.
So, celebrating more than a decade under Mr Corrigan's admirable stewardship is apt enough, but in its Centenary year, Bentley's is undoubtedly one of the coolest British eating experiences in London.