Events
🇬🇪 Reflections on the Gurjaani Wine Festival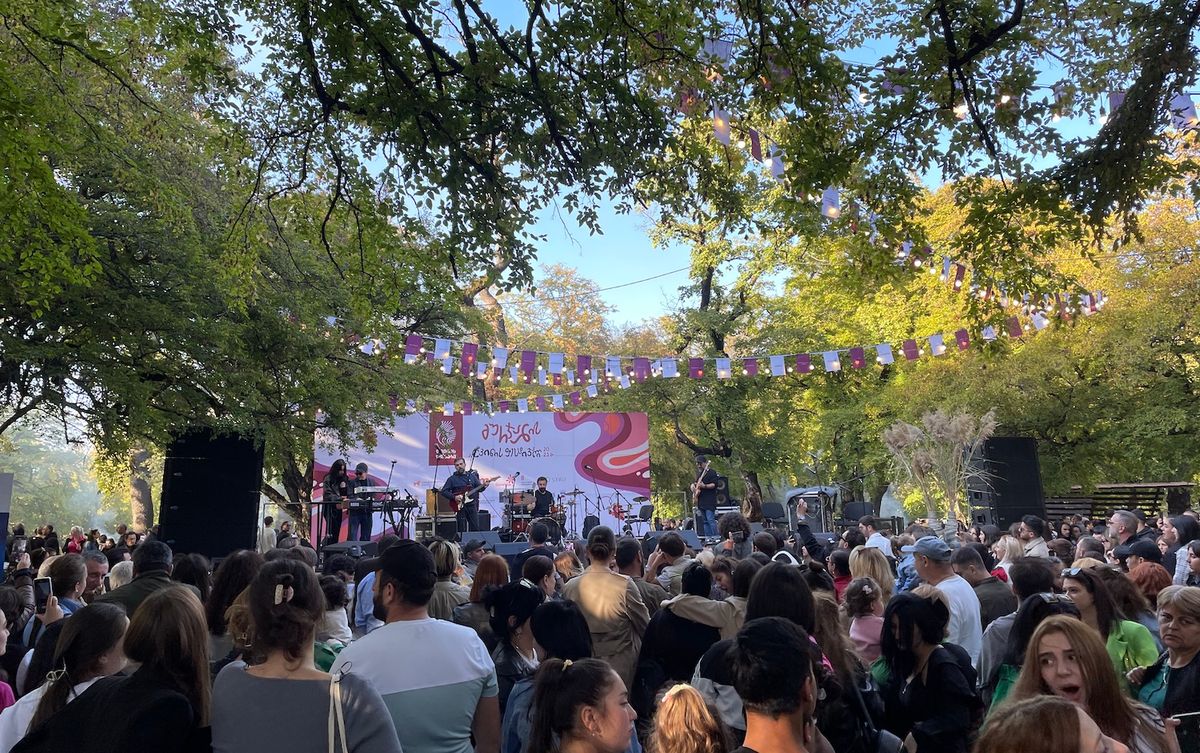 It's mid afternoon in Eastern Georgia and an October sun loiters in the boundless blue sky. A shimmering heat haze lingers over the Alazani river plain, distorting the vast snow capped profile of the Caucusses. We're just over 100km from Tbilisi, in the Kakheti region's principle winemaking town, and the mood is increasingly merry.
The Gurjaani Wine festival is going from strength to strength. What started out as a small-town food and drink fair in a forest clearing, has grown to be one of Georgia's wine events of the year. More than 30,000 people from all over the country descend on this rural community to celebrate artisan winemaking and the local food traditions of the countryside.
Approximately 7,500 residents call Gurjaani home, where a significant portion of the working-age population is engaged in agriculture. The focus is resolutely on grape cultivation and the town is intricately tied to the ebbs and flows of the viticultural season. Gurjaani proudly claims the largest expanse of vineyards in the country, solidifying its status as the heart of winemaking in Georgia. In fact, there are no fewer than 10 of the country's 25 official appellations located within its boundaries.
Yet, amidst this concentration of agricultural endeavour, a weighty challenge looms—urban migration. Like many other regions in Georgia, Gurjaani faces the constant exodus of its youth, compelled to seek opportunities beyond the town's borders. The pull of urban life presents a genuine concern, casting a shadow over the sustainability of local communities.

As a guest of the municipality of Gurjaani and the Georgian National Tourism Administration, I was able to delve into the origins and objectives of what appears to be an extremely successful festival. One can't help but note the importance of events like this in providing a platform for small businesses to be seen and grow. They serve as a critical reminder to the young - economic opportunities do exist in the countryside, and that their input is needed to strengthen it.
The Gurjaani Wine Festival was created in 2017 by a group of wine loving residents led by local politician David Songulashvili. The aim was to create an event that could play an important role in stimulating the economic and social activity of the municipality, promoting local wine and increasing the avenues for tourism.
Soso Galumashvili, President of Gurjaani Wine Festival told me, "I think that we correctly defined the goals and priorities from the very beginning. Our initial goal was to make the festival attractive and interesting primarily for residents of Gurjaani and only after that we started thinking about attracting visitors from outside the municipality. We walked towards this goal step by step. In 2019, it became clear that this was not a festival of organisers, rather it became a festival of Gurjaani residents, and we, the festival organisers, were only involved in resolving organisational matters and business process management."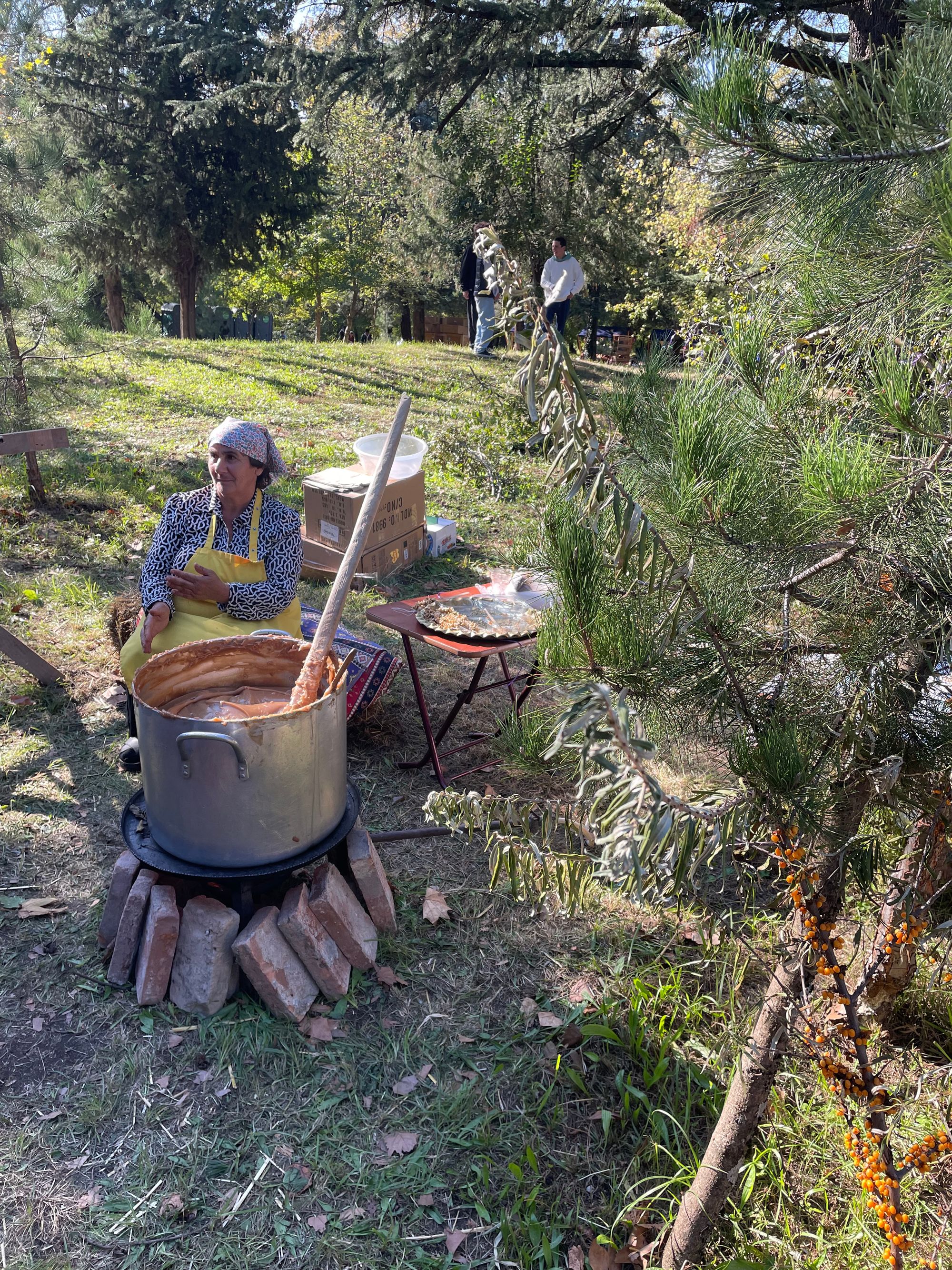 There's an element of this kind of organic development in all large scale thriving events. Facilitating others to contribute positively can be infinitely more impactful. Soso Galumashvili emphasises "the event is not only for them, it's about them. The owners of the festival became the residents of Gurjaani. This is their festival. They are the hosts and they receive the guests. The festival became very public and this feeling of co-ownership is indeed an advantage. Imagine thousands of people inviting guests, running their own campaigns, and planning everything on their own. Ask any resident about the festival, everyone will tell you that they are proud of it".
Although the atmosphere is lively, it's not just a party. There's a strong local business element to it. Malkhaz Makhoshvili, founder of Kardanakhi 1888, noted "this is our fourth time at the Gurjaani Wine Festival and the number of both guests and wine buyers is increasing year by year. It can be said that we grew up together with the Gurjaani Wine Festival and we supported each other to develop and improve. Today, if you are looking for the best way to increase an awareness about your wine, convey a message to a potential buyer or get closer to an existing one, the Gurjaani Wine Festival is the best place to do it".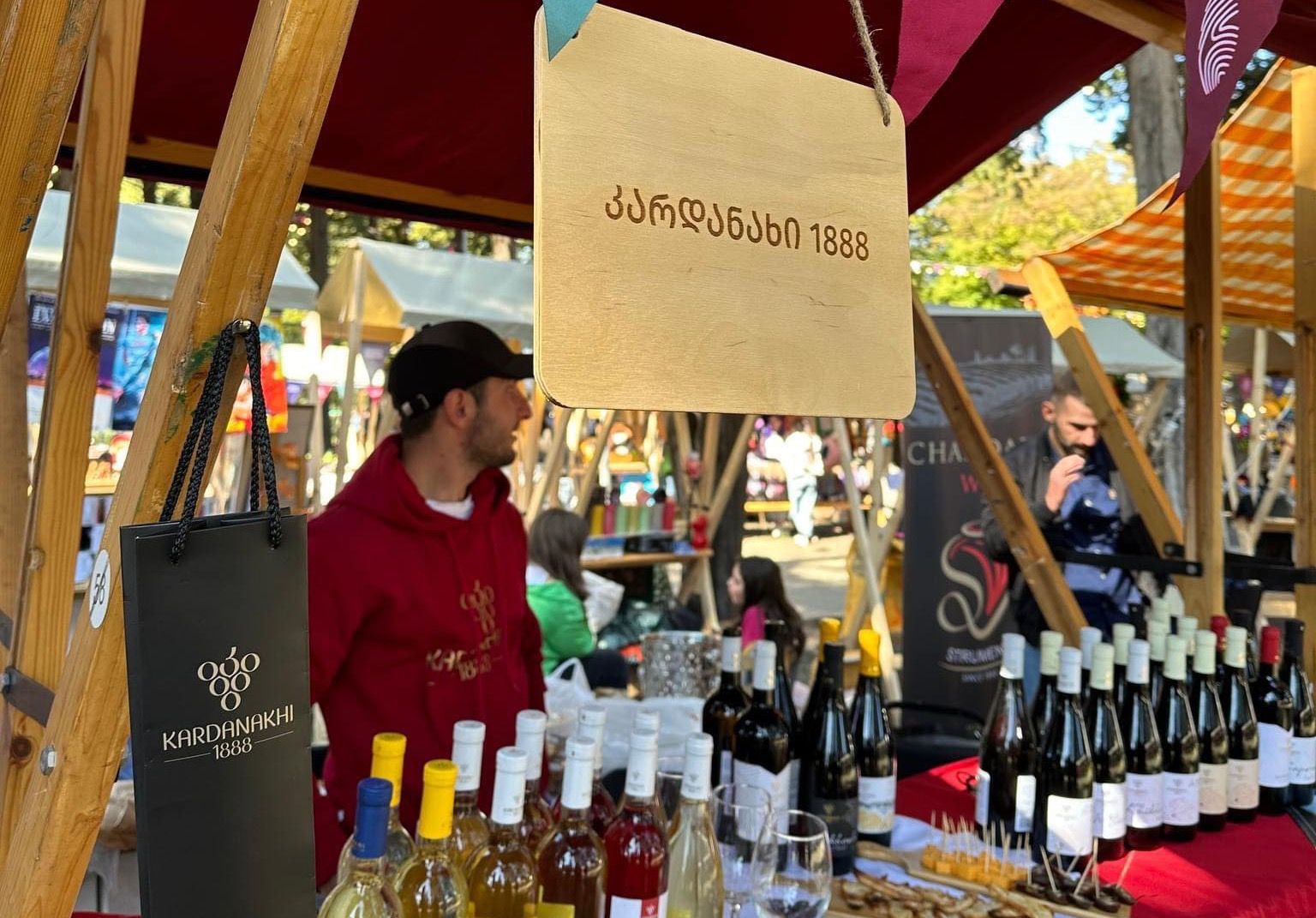 Otar Bibileishvili made his first wine last year and is now on the marketing trail to try and build a following for it. He said "this year we made wine for the first time and wanted to introduce it to the wider public. Our winery participated for the first time, but, we haven't missed a single previous festival because we are locals. Since 2017 we have been attending every year. Indeed, a lot of people visited Gurjaani Wine Festival 2023 and perhaps this also contributed to the fact that we managed to sell a lot of wine. We never imagined that so many people would show an interest to try wines from a newly founded company and enjoy them so much. We had some nice exchanges with the guests and listened to their feedback attentively in order to take it into consideration. Gurjaani Wine Festival is a good opportunity to directly get in touch with the customers, hear their feedback personally and introduce the story of our wine.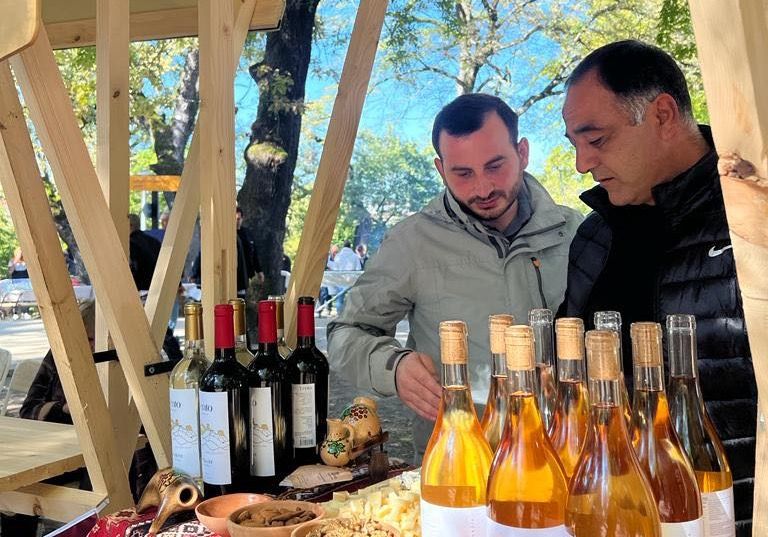 Its growth has been impressive, by anyone's standards. Galumashvili recalled those early days "I remember well the year of 2017, when a total of 30 winemakers and small entrepreneurs gathered in a small area of Akhtala Park. The official opening ceremony was modest, and it was attended by less than 1000 people. However, the festival showed us its potential very well. Since then, the festival has been growing and expanding each year. This year was the most crowded - both in terms of wine producers and the number of guests. The National Wine Agency, Georgia National Tourism Administration and the local government helped us a lot. In 2023, 331 entrepreneurs exhibited, out of which, 240 were wine producers, presenting their work to 35 000 visitors".
Needless to say, Giorgi Matchavariani, the Mayor of Gurjaani is also proud. "Gurjaani Wine Festival is one of the most popular wine related events in Georgia. This year, the interest of the participants also increased; the festival had about 350 small businesses, and what is most important, this year we also had the largest number of wine producers registered." He continues, "this was an unprecedented achievement in the seven year history of the festival. It's an interesting platform where visitors can learn about well-known wines as well as taste the wines of novice producers. This year, we dedicated the Gurjaani Wine Festival to 'hospitality'. The festival supports the promotion of Georgian wine, as well as the establishment of Gurjaani as a wine-making municipality. I think that next year the Gurjaani Wine Festival will acquire even larger dimensions".
Soso Galumashvili says "a festival of this kind has the capacity to meet multiple objectives. At a local level it provides an opportunity for the community to come together and celebrate cultural traditions. Beyond this though the festival can be a huge advert for broader ambitions; the promotion of qvevri wine is high on the agenda. Already recognised by UNESCO as an "intangible cultural heritage monument" these kind of large scale events strengthen this tradition further. It is important to endorse bottled wine as a premium market commodity, to amplify wines with designated origins, and to promote wine tourism by acquainting attendees with Georgian culture and traditions".
The industry now has eyes all over the amber wine movement. The skin contact revolution has been underway for many years, and even the dullest of wineries are wondering whether they should buy an amphora and add a new colour to their portfolio. Georgia has rightly won recognition for introducing this trend, but now is the moment to leverage that attention commercially. Encouragingly, there are promising collaborations underway. The festival organisers have undertaken key partnerships to help develop both the brand and the reputation of Georgian wine in general. Perhaps the most notable of those is in the UK, where an agreement with the IWSC has seen around 500 wines evaluated in 2022, resulting in a record number of gold medals.
"For two years now, The Gurjaani Wine Festival holds the IWSC Wine Judging in Georgia competition together with the International Wine and Spirits Competition (IWSC). Cooperation with an international company last year turned out to be fruitful, there were many medals given out. This year we signed a partnership agreement for a period of 3 years. A recognised IWSC award helps our winemakers improve access to target markets, increase exports and gain recognition from respected wine experts".
When an event reaches this size it's always interesting to consider its future development. A new set of challenges inevitably set in. How do you grow without ruining it? If growth isn't desirable then how do you keep things fresh without undermining the approach that made it popular? These questions haven't escaped Galumashvili though. "We think about this issue a lot, especially after the festival acquired such scale and became the largest wine festival in the Black Sea and Caucasus region. We are now negotiating with the United Nations World Tourism Organization (UNWTO) to develop a strategic plan for development. We need specialists with many years of expertise in managing festivals and increasing tourism potential. We clearly see our strengths. We have the largest festival with a huge number of locals and visitors, and the opportunity to increase numbers from abroad to make the festival popular throughout the world. To do this, we need UNWTO experts to share their experience with us".
At a local level these kind of events are extremely important. Economic activity in the countryside is critical to slowing the brain drain to the capital. Given the disproportionate amount of development and opportunity available in Tbilisi over countryside communities, it can be hard to keep talented entrepreneurial people. In an age when technology links the planet in seconds, the world can peer into Gurjaani and learn what it's doing. What they'll see is a community that has come together to promote their culture and traditions. It is built on wine, and long may it continue.