I'm not bragging, but being in the wine trade for nearly 10 years gives you a fair opportunity to taste a wealth of different grape varieties. I am then, always excited when the chance to taste something completely off my radar comes my way; tonight's culprit is the little known Mondeuse grape. In all honesty it was a treble first for me, unfamiliar as I was with grape, appellation and Yves Duport, esteemed producer of this quirky 2011.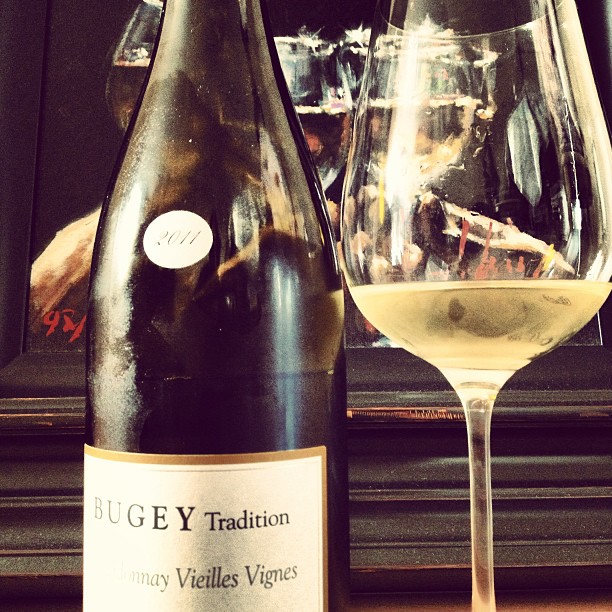 What to do in such circumstances? Taste blind without preconceived ideas, but also knowledge from which to heighten appreciation? Or pull out the encyclopaedia, give myself a grounding but possibly risk overkill by academia? Rebel that I am, I opted to leave the facts and figures on the book shelf, pouring, sipping and pouring again without inhibitions.
First impressions were good; a lovely cherry red shone, clean and bright from the glass. The nose was flirtatious also, scented berry fruits lingering with poise. The promise of cherry knocked me off my guard. Seduced and lured forth by parfum provocateur, I perhaps deserved what I got. I had misread the signs. A stringent, cool climate, Swiss border shaped acidic slap across the mouth yielded a wince of such blatancy it would not be fit at any civilised table. I felt tricked. A buxom, 'beaker of the warm south' she was not.
Don't let this fool you however. I should, as my instinct insisted, have prepared in advance. Mondeusse is of a similar ilk to Pinot Noir; a cool climate red variety designed to shine only in the rarest climatical circumstances. When it's good it's very good, but be prepared for a feisty temperament otherwise. Yet Mondeusse divides the critics; some claim it has trouble ripening in the Alpine settings of Savoie, another popular origin. Yves Duport compares this old, traditional grape with Syrah. On this example you would never make the know. It has an Italian character to it, racy acidity and bitter, herbaceous notes. It would not be at all out of place in the Valle d'Aosta.
Upon regaining my composure I accepted my imposition and sought to reintroduce myself with a mannered patience more befitting of my aspirations. A Bugey Tradition is not a quick fix. For success, you must come to know one another.
With just 500 hectares under vine Bugey AOC is unlikely to be found everywhere. When it does appear it could be in the guise of white, rose, sparkling or indeed red, in which case either Pinot Noir, Gamay or Mondeusse can be utilised. This particular wine was hand harvested before undergoing a cold pre-fermentation maceration for a couple of days, 10 days traditional maceration, malolactic, then finally into barrels for 12 months peace and quiet. Three years on from the vintage, the wine is wonderfully perfumed, a slender 12% alcohol and a refreshing acidity and tannic structure that leaves you wanting to know more.
Bugey AOC and I have agreed to meet again soon.