Cellar
🗝️🕸️ From the cellar: Summer recess
From the cellar looks at old wines from various cellars around the world. The aim isn't to find the most prestigious labels, but wines that might surprise and delight.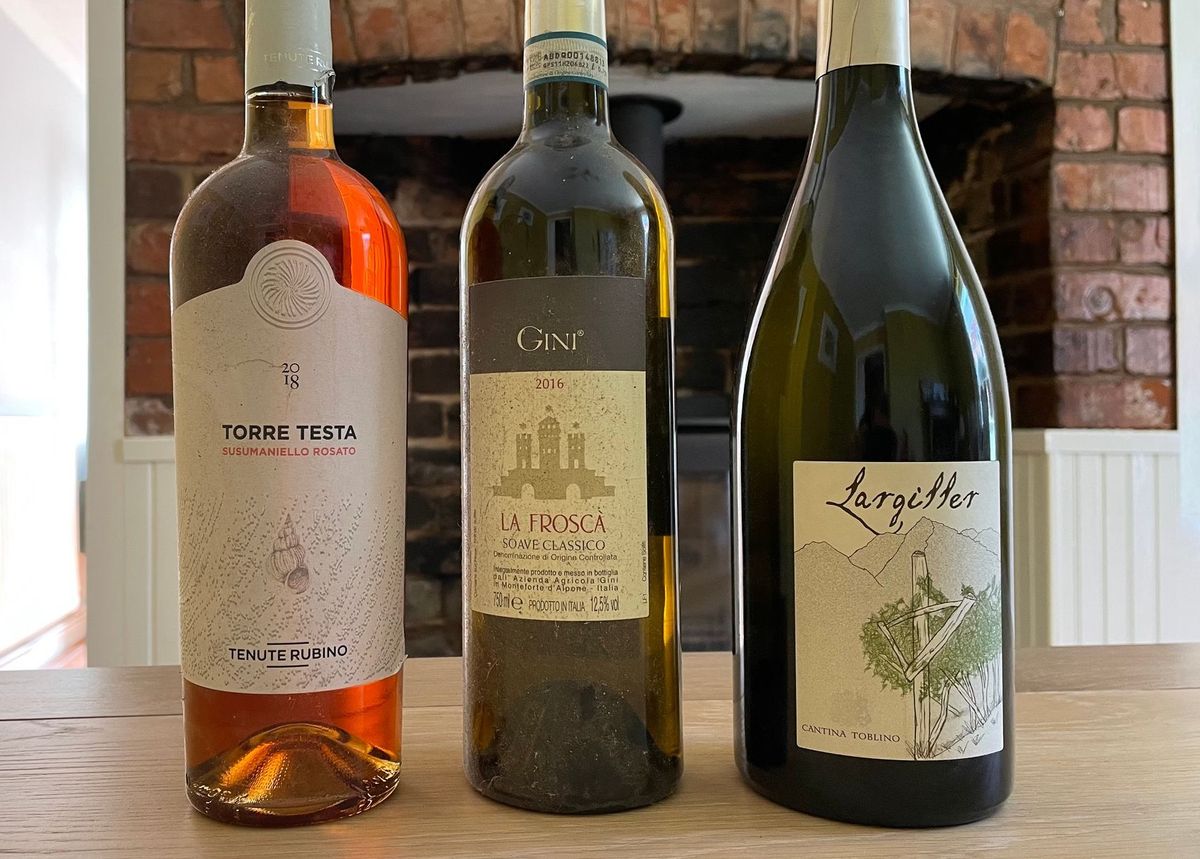 Over the last decade or so I've built up a little cellar. It's full of all sorts of wonderful things, but also plenty of wines that are surely past their best. 'From the cellar' is a new idea for a monthly column where I'll raid the racks in search of interesting wines. Given the amount of travel I'm doing at the moment I'll probably have to rummage through the collections of others, picking out a few bottles that might deliver something intriguing. The aim isn't to find the most prestigious wine to show off with, although that could happen; rather, it is to delve into interesting bottles that may or may not have survived the journey. This first entry features a 2018 Susumaniello rosato from Salento, a 2016 Soave and 2013 Nosiola from the foothills of the Dolomites.
---
Chester, UK
Summer in the UK has been an absolute washout. Some pleasant days in June gave way to weeks and weeks of brooding cloud cover and torrential rains. The net result is the cellar is overweight in quaffable white drinking wines. They were't supposed to stay long, merely queued for processing, but in the absence of opportunities for garden hospitality I've ended up finding space for them in the racks.
Most are made for early consumption. Their charm lies in their primary fruit characteristics and their youthful freshness. One or two might have some potential for development in the bottle, but the majority won't reward the patience. For now though I've opted to kick the can down the road and make space. On a more positive note, the reshuffle has thrown up a few curiosities whose time has come.
Soave is a wine I have talked about for its ability to defy expectations when it comes to ageing. The appellation is in a period of transition as small producers seek to showcase the uniqueness of historical vineyard sites through a recently introduced UGA zoning system. Garganega, the variety often behind the best Soaves, has the acidity and structure to develop with time and when yields are kept in check, the concentration to excite. Well made versions gradually take on deep notes of honeysuckle, peach and almonds and are well worth hiding away for a few years, particularly given their relatively modest prices.
I found a 2016 vinified in stainless steel, although benefitting from a small portion in contact with third passage oak. The Gini family has been producing wine around the village of Monteforte d'Alpone for over 400 years and today Sandro Gini is at the forefront of a quality revolution taking place in Soave. After just a few minutes in the glass it opened up beautifully. Full of husky fragrance, roasted nuts and spiced apple, its mellow palate and resilient freshness made an enjoyable contemplative aperitif.
Perhaps the biggest gamble, was a 2018 rosato from Salento. I've also written before on the longevity of Salento's pink wines, but these are predominantly made with Negroamaro. I've been saving Tenuta Rubino's 'Torre Testa' expression of Susumaniello out of shameless geekery. There are only a handful of wineries releasing this variety commercially, particularly in pink, so I held one back for research. It was ok. Fading hints of raspberry and strawberry rested on a softening frame. Susumaniello, a derivative of little donkey in the local Brindisi dialect, is plodding quietly back into fashion. Around 400 hectares of it can be found now.
The star of the show however was the fairly obscure Nosiola variety. There really isn't much of this about at all, but what little of it there is grows around the Toblino area of Trentino, and in the Valle dei Laghi up near the Dolomite mountains. One of my favourite interpretations of the variety is made by Foradori, but Cantina Toblino (the local co-operative) has a number of member growers still cultivating it. Historically it was used for the production of a sweet Vin Santo, but it can also make very interesting still table wines.
My treasure from the cellar was the company's 'Largiller' 2013, a 100% Nosiola labelled as Vigneti delle Dolomiti IGP. It is a selection of only the best grapes, produced only in favourable vintages, and aged for around six years in large oak barrels before bottling. It was worth the wait. Complex aromas of green apple, grapefruit and tropical limes were joined by mountain herbs and hazelnuts. It's a big wine made to demonstrate intensity over subtlety. Nevertheless, with the rain still pouring, a bit of Alpine sunshine was a welcome drop.