Interview: Aurelien Chirat of Domaine Chirat on a very special vintage in Condrieu
The first Chirat harvest was back in 1925 when Benoit Chirat, great grandfather of Aurelien, picked Syrah on the sun scorched slopes of the northern Rhone. It wasn't until 1980 that the Chirats first planted Viognier in Condrieu and it was 1985 when the first vinification took place. Since then though Gilbert Chirat has worked hard to build a reputation for top quality wines. In 2012 his son Aurelien joined the business and will be responsible for writing the next chapter at Domaine Chirat. 2015 has been one of the best vintages he has been involved with so far. I put a few questions to him on his experiences.
Can you describe the 2015 growing season at Domaine Chirat?
2015 was an exceptional year for wine in the northen Rhône valley. The soils had dried out during spring and when the rain fell in June it was particularly welcome. Flowering was early and the hot weather was matured the vines quicker than normal. July was also very, very hot with no water and August brought its typical summer heat. The vines were stressed.
We started harvesting our Clos Poncins Viognier on the 2nd of September. Alcohol levels were high with 15% vol while the yield was very low, just 20hl/Ha. We picked the rest of the Condrieu shortly after with an abv of 14.50% and a yield of 30hl/ha.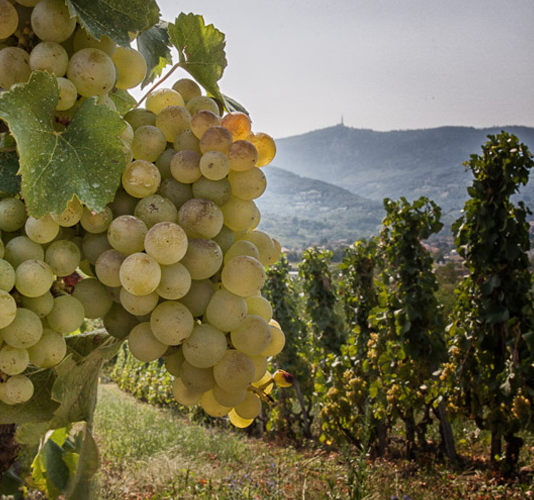 You joined the family company in 2012. How does your experience of 2015 compare with other years?
Although it was a good year, 2015 saw a lot of stress in the vineyard; the fruit matured quickly and acidity was generally pretty low throughout the Condrieu appellation. The goal was to keep the wines fresh without too much manipulation. We work with natural yeasts so the fermentation took a while.
2015 was clearly a special vintage and there was a lot hype about these wines before they were released. How are your three Condrieu wines developing now?
The 2015 Condrieu are very ripe with a lot of peach and apricot aromas. In the mouth they are full and very intense, mainly due to the long maturation period and the amount of sun that the Viognier received. I think we need to drink them within the next five years while they still have some freshness about them. Beyond that there is the risk that they become a little flat.
Your wines spend time in a mix of old and new oak barrique. How would you describe the relationship between wood and Viognier?
At Domaine Chirat we used 10% new oak for our 'Les Chays' 2015 and 40% new for Lieux-Dit 'Clos Poncins'. The rest is matured in three year old oak barrels. The reasoning behind using new oak is to give some toasty aromas, while ageing Condrieu generally allows the Viognier grape to receive some oxygenation which seems to allow the minerality of the wine to come through as well as providing it will some additional structure to age. Our barrels come from SAURY tonnellerie in France; for the Condrieu we use 400L barrels with some light toasting. This keeps the aromas subtle.
Your flagship Condrieu comes from a very old liux dit, Clos Poncins. What can you tell us about this vineyard and how does it differ from other parts of the appellation?
The Clos Poncins is a small parcel of of about 1/3 of a hectare. It sits at the bottom of the hill and as such has the potential to be a little hotter than other areas of the appellation. Consequently we tend to pick this earlier than our other sites and of course the size of the vineyard means that everything is done by hand. There is evidence of Roman occupation here and legend goes that Pontius Pilate died close by and vineyard was named after him. The soil of 'Clos Poncins' are very deep, with some granite, giving wine with lots of aromas but less acidity.