Events - Hosting an Alpine Wine Tasting at Mistral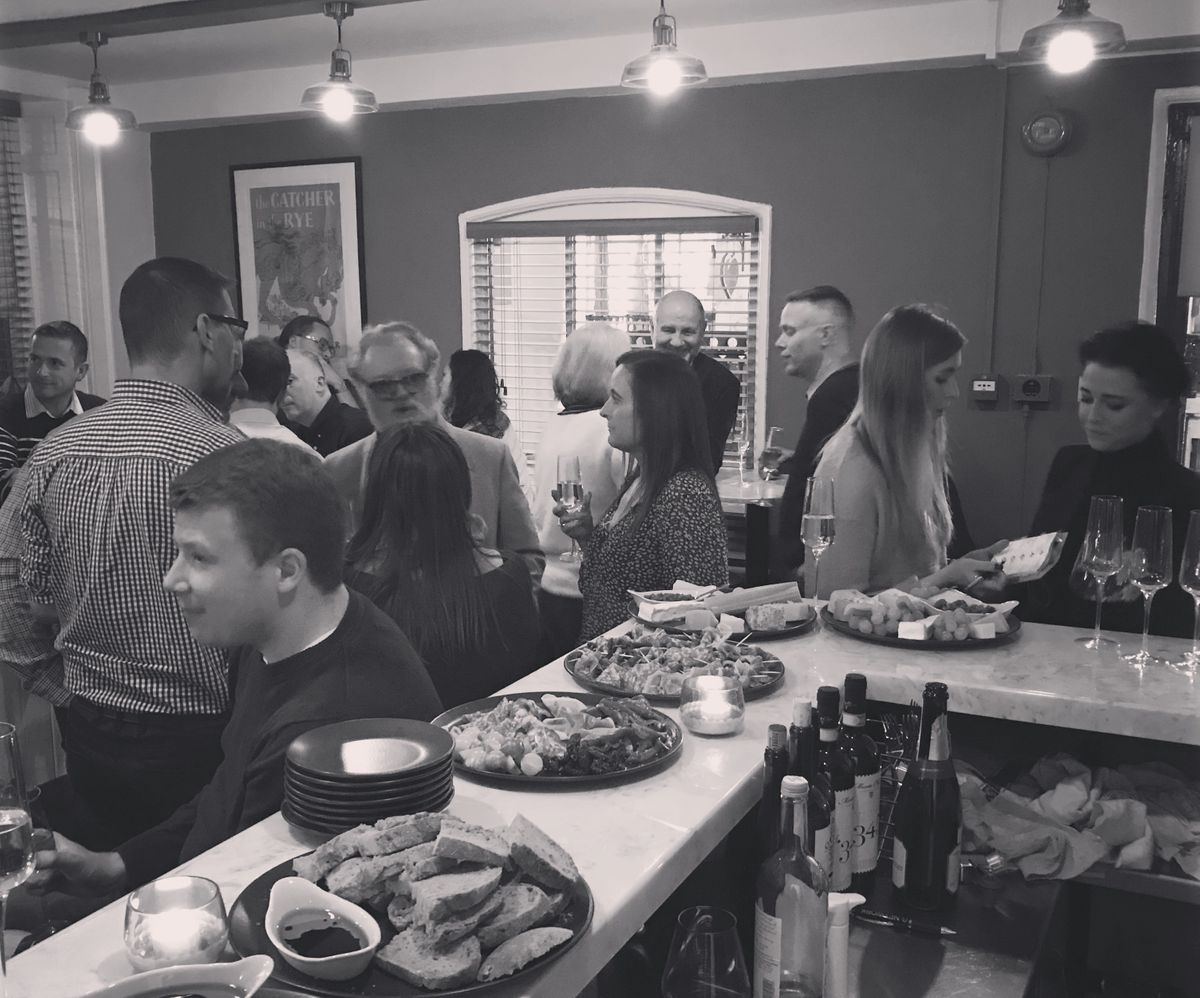 We held our first wine tasting event at Mistral since its opening in September. Hopefully it will be the first of many, but we teamed up with Ben Drury of Yorkshire merchant Alpine wines to introduce customers to some of the boutique names hiding in the various shadows of the Alps. I wrote the following summary for the Mistral blog.
---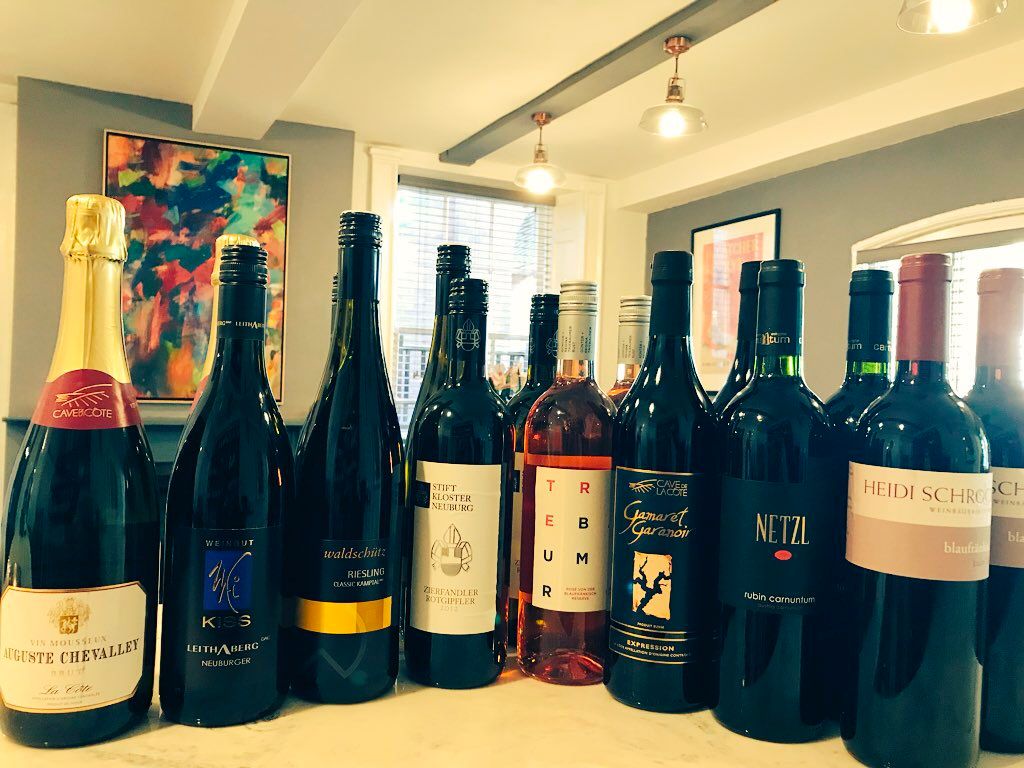 On Wednesday 24th of October friends old and new gathered at Mistral to discover and celebrate some of the excellent winemaking taking place in the foothills of the Alps. Over the course of two hours we rattled through eight wines from Austria and Switzerland and covered a range of unusual grape varieties including treasures such as Zierfandler, Neuburger and Gamaret.
The evening started with a sparkling Swiss Blanc de Blancs and set the tone for a cosy midweek wine party. 100% Chardonnay and made using the traditional Champagne method, it integrated fresh apple and pear aromas with just a hint of autolytic brioche and fresh bread character. Cave de la Cote are known for producing excellent wines at an even better price and this is no different. At less than £20 per bottle to takeaway, this is an absolute bargain and is well worth considering with the festive season on the horizon.
Working in conjunction with Ben Drury of Alpine Wines in Yorkshire we selected a potentially challenging threesome of whites. The first, a solid Austrian appellation wine from Leithaberg DAC in Burgenland was made using the little known Neuberger grape. Although intensely floral on the nose, it showed a light and refreshing energy on the palate and the kind of versatility Weingut Kiss have become known for. Their wines are often great as an aperetif but also able to stand up to some of the region's traditional appetisers.
The Austrian region of Kamptal knows how to make Reisling and the 2014 classic from the Waldschutz family is a great example of this claim. They farm 16 hectares of vineyard in Kamptal and Wagram where they also grow Grüner Veltliner and Weissburgunder and since 1992 have established and enviable reputation for consistently fresh wines with ample fruit and concentration. Our selection was a genuine lesson in crisp Reisling, partnering exotic stone fruit notes of peach and lychee with an impressive backbone of mineral complexity and lively acidity.
We finished the whites with.....a mouthful, a curious blend of Zierfandler and Rotgipfler. These rare grape varieties grow only in one place on earth and produce extremely complex wines with excellent ageing potential. They are often used together to evoke fragrant perfumes, rich, almost sweet notes of tropical fruit, and very fresh balancing acidity. If showing this wine wasn't crazy enough, we opted for the 2012 as evidence of its successful evolution. Although unusual, it's certainly a great match for spicy middle eastern dishes and aromatic Indochinese flavours.
After a little break we moved onto a rosé from the Austrian Blaufrankisch grape which for many reasons was the perfect gateway to the reds. A deep, but refined palate of crunchy red fruit and a selection of local cheeses wet appetites for our swift and seemless advance onto a light and ethereal blend of Gamaret and Garanoir, two little known Swiss varieties, that proved more than able to match freshness with intensity. Cave de la Cote may be one of the biggest co-operatives in the country, but, this is Switzerland and production is still (and probably always will be) charmingly tiny.
Next came a terroir focussed middle weight red from the Zweigelt grape. The variety is becoming increasingly popular for its ability to create fresh reds with character and personality. Weingut Netzl's wines are a step up in class to many however, benefiting as they do from the distinctive micro-climate of Carnuntum, a little DAC appellation that specialises in the variety. Here the labels are identified by their Roman arches, a reference to the region's ancient winemaking past, so despite Austria's relative imaturity on the international wine stage, its heritage is long and impressive.
We finsihed with a bang. Heidi Schrok is one of the Europe's top winemakers. She knows how to make wines with elegance, balance, harmony, freshness and deliciosuly succulent fruit. We chose her 2012 Kulm Blaufrankisch as the best vehicle to show off her craft. With six years of age to it, it had developed into complex red with plenty happening on the nose and the palate. Earthy, authentic with abundant helpings of rich fruit, it was a classic continental climate wine.
Sparkling
August Chevalley Brut NV by Cave de la Cote (Switzerland)
White
Leithaberg DAC Neuburger 2015 by Weingut Kiss (Austria)
Kamptal DAC Riesling Classic 2014 by Waldschutz (Austria)
Thermenregion DAC Zierfandler / Rotgiplfer 2012 by Stift Klosterneuberg (Austria)
Rosé
Rose of Blaufrankisch Reserve 2015 by Triebaumer (Austria)
Red
Gamaret-Garanoir 'Expression' 2016 by Cave de la Cote (Switzerland)
Carnuntum DAC 'Rubin' 2013 by Weingut Netzl (Austria)
Blaufrankisch 'Kulm' 2012 by Heidi Schroek (Austria)