(Journal) Visiting Herdade das Servas in the Alentejo, Portugal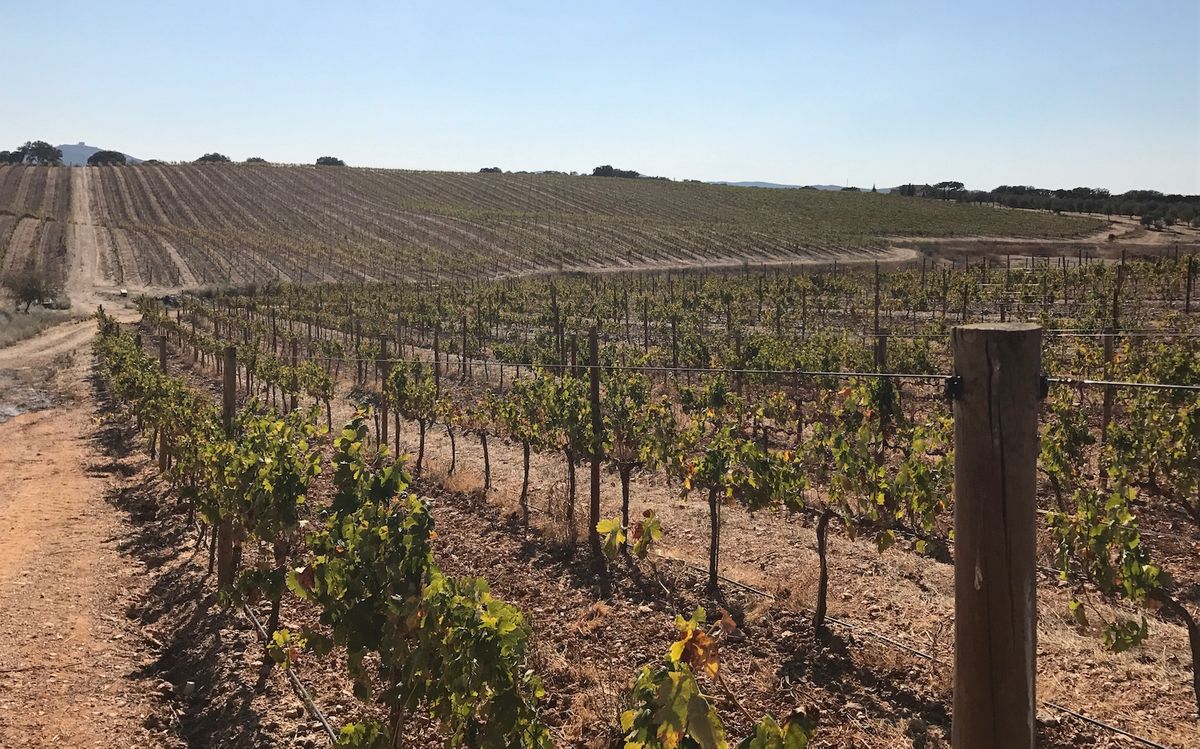 One of the most quality orientated producers in Alentejo, Herdade das Serves are one of the wineries to keep an eye on. With a centuries long family tradition in winemaking, the Serrano Mira family started work on constructing the winery in  1999.
Situated in Estremoz, they cultivate more than 350 hectares of vineyard, 80 of which surround the winery. Red grape varieties include Touriga Nacional, Syrah, Alicante Bouschet, Aragonês and Trincadeira whilst the white grapes list Roupeiro, Antão Vaz, Rabo-de-Ovelha and Arinto.
The cellar is kitted out with the latest temperature controlled technology, as well as plenty of capacity to vinify each individual grape variety individually. Interestingly, but increasingly popular for the region due the close proximity of quarries, is the marble largess used to tread fruit for the premium wines by foot.
My first visit Herdade das Servas was in October 2017 as part of a FIVEV and Wines of Alentejo visit to the region. Under the charming hospitaly of export manager João Calado, he lead our small group through the forward thinking phillosophy of the company and the vision of brothers Luís and Carlos Mira, the most recent generation of the family who run operations today.
The winery also boasts an on site restaurant, the scene of our tasitng and backdrop for the repertoire of the region's traditional dishes. Think black pig cheeks and bacalhau.
---
Alentejano VR Branco 'Montedas Servas Escolha' 2016 by Herdade das Servas A blend of 50% Roupeiro, 20% Arinto, 20% Antao Vaz and 10% Semillon, it is well structured with impressive concentration. Citrus immediately shows on the nose but there are distinct tropical notes of peach and pineapple. An elegant wine that finishes with the subtle smokiness, characteristic of the varieties. (October 2017)
Alentejano VR Branco 'Colheita Seleccionada' 2016 by Herdade das Servas  A blend of 35% Roupeiro, 30% Viognier, 20% Verdelho and 15% Sauvignon Blanc, this is a delightfully stylish, polished wine bursting with both citrus and stone fruit aromas, notably lemon and apricot but complemented by gentle whiffs of orange rind and floral fragrance. In colour and on the palate concentration is obvious; there's lots of power and structure but complexity is impressive after three months 'sur lies'. Very polished and modern, with tropical fruit defining a decent finish. (October 2017)
Alentejano VR Alvarihno 2016 by Herdade das Servas A touch of salinity of the finish. Well balanced and fresh but lacks the mineral personality that characterises so many of Portugal's best examples of the grape in the Minho. Regardless, it's a worthy effort. Plenty of tropical fruit notes make this a very approachable wine. (October 2017)
Alentejano VR Tinto 'Montedas Servas Escolha' 2015 by Herdade das Servas A blend of Aragonez, Alicante Bouschet, Syrah and Trincadeira, it offers a pleasant, full bodied style. It's a fairly simple wine but undoubtedly balanced and pleasant. A decent helping of brambly fruit and gentle spice make this a useful party wine. (October 2017)
Alentejano VR Tinto 'Colheita Seleccionada' 2015 by Herdade das Servas Very powerful showing all the hallmarks of a classic Alentejo vintage. Lots of concentration but still fairly simple. Second and third passage oak. At 15% alcohol it's a wine that may taunt the faint hearted on the finish. (October 2017)
Alentejano VR Tinto 'Sem Barrica' 2015 by Herdade das Servas Rigid and structured, there is some ripe fruit but the style of this wine is all about demonstrating that a serious wine can be made with a lack of oak. A little tight still and undoubtedly waiting to open up in the coming years. (October 2017)
Alentejano VR Petit Verdot 2014 by Herdade das Servas Incredible aromas of mint and eucalyptus on the nose. Opulence and polish on the palate but the region's familiar blast of alcohol and concentration pushes through on the finish. The finish is dry and structured but this a brilliant wine. (October 2017)
Alentejano VR 'Vinhas Velhas' 2014 by Herdade das Servas Coming from the property's oldest and most concentrated vines, this luxurious blend of Alicante Bouschet (45%), Trincadeira (25%), Touriga Nacional (25%) and a touch of Petit Verdot shows sublimely silky tannins, delicious black fruit compote and some pushy spice. The length is long and distinguished and this will stand up against the best in Portugal. (October 2017)