Pondering terroir over Ohrid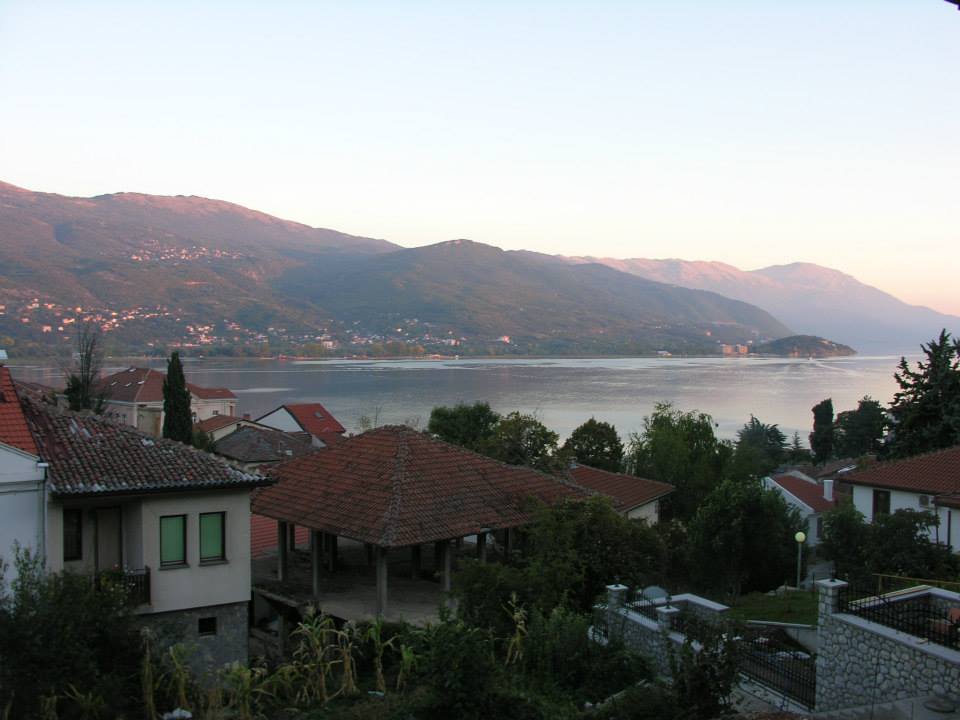 I should do this more often!!! What a week of fine Macedonian hospitality, charmingly rustic country wines and several bottles of aggressively monstrous Vranec; I was sucked in, spat out and deposited quite conveniently on a rocky edifice overlooking Lake Ohrid and the 13th century Monastery of Saint Kaneo. Seven days nicely consolidated I concluded. But as the sun cascaded down somewhere behind Albania, I pondered my time travelling through Macedonia's wineries and vineyards. Something was bothering me, something distinctly missing in an otherwise very positive impression. Yes. The dreaded concept of terroir, that nasty French response to everything under the stars.
Why do we in the west of Europe crave terroir and its evidence so badly? Is it to complicate things? A subconscious way of excluding those of us less fortunate to taste, travel and study this increasingly massive world of wine? I don't think so. We crave terroir because we want to connect ourselves to place, people and time through the contents of our glass. We crave authenticity. We crave truth.
Without terroir we are lost, drinking without understanding. There is of course a place for such care free wine consumption, and I do not scribble this condescendingly. I am no stranger to the generic juice of France's village bistros or the anonymous vino sfuso of Italy's family trattorias. But discerning drinking requires handles, something to hold on to. I want to know why this wine is from here of that wine from there. I want to know the climate and the soils, the natural characteristics of the grape and the production choices and styles of winery and winemaker.
So, what to make then of a country in which 83% of the grapes are grown in one region and then bussed to various parts of the country for vinification? What to make of a country where the appellation system (in place for the last two years) is ignored by producers and is not considered a particularly interesting concept by the domestic population? The answer must be to encourage it as quickly as possible. Terroir is more than just intellectual snobbery; it is the key to both sustainable business and sustainable identity.
The Tikves region of central Macedonia is responsible for the bulk of the fruit produced in the country. Not without cause; it's warm and dry and the potential for premium fruit is obvious here. I accept the counter argument. Macedonia's wine industry is young and delicate. Production of any sorts is to be encouraged; restrictive regulation avoided. In order to position Macedonia as a premium wine producing country though, the unique terroirs of the various regions must be shown off. To do this you need appellations.
The Tikves winery (Тиквеш) are not alone in setting precedent; they produce two red and two white single vineyard wines labelled Bela Voda and Barovo respectively. Chateau Kamnik, located almost a stone's throw from Skopje city centre also produce exciting wines from their own vineyards and are keen to emphasise Skopje as a worthy origin; they are a boutique winery, experimenting with various Italian varietals but more importantly, crafting single vineyard wines that display character and identity. Further south, in Demir Kapija, the Popova Kula winery are producing various interpretations of Vranec that, with time will undoubtedly evolve into a single vineyard depiction of Macedonia's rising star variety.
Macedonia should start as it means to go on. Beginning to define and articulate the various (and there are many) terroirs that characterise this exciting new frontier in Balkan wine production will go a long way to ensuring a healthy and sustainable wine industry!