Travel - Visiting Brzanov in Skopje, Macedonia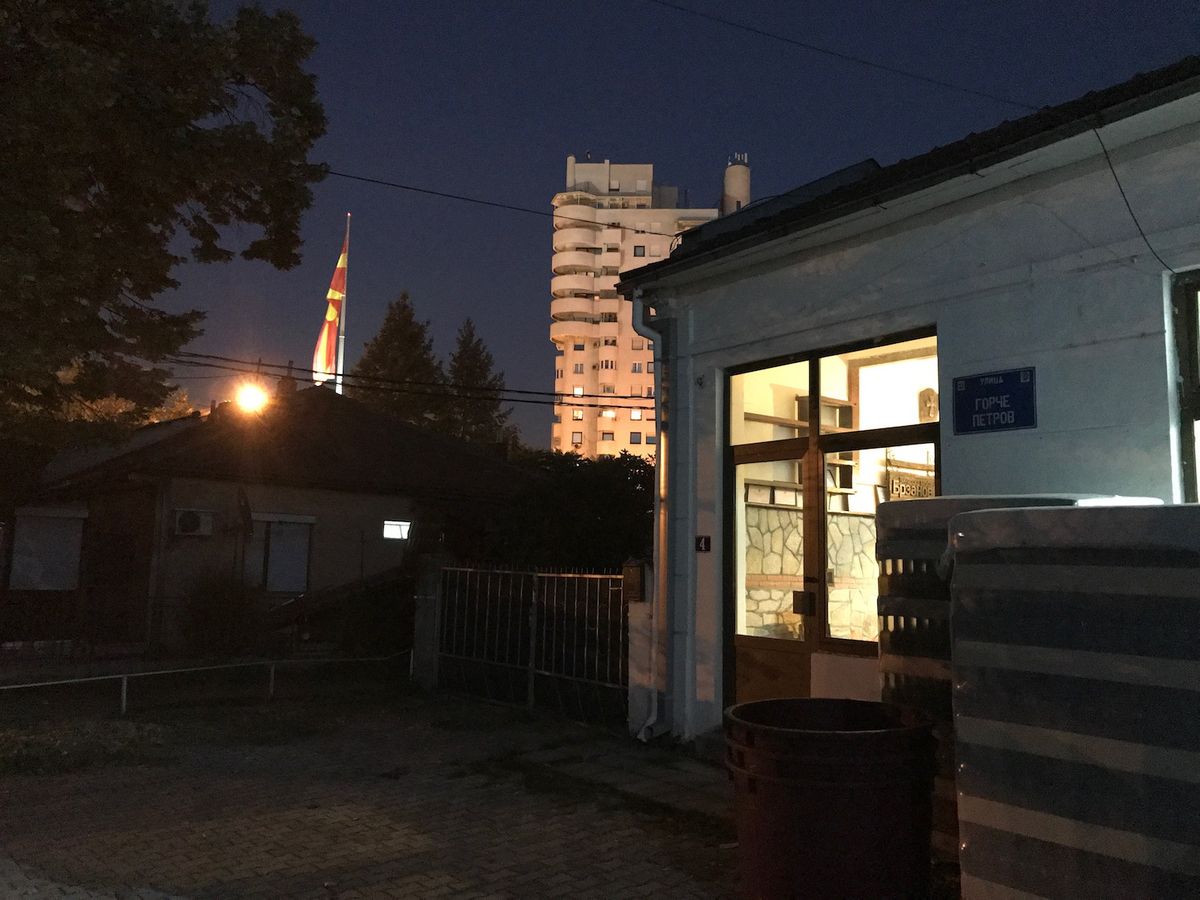 Formed in 2012 by winemaker Tony Brzanov and his business partner Dimitar Stojanovski, Brzanov is a small, independent winery located on the outskirts of Skopje known for producing full bodied reds from international varieties.
It's small scale, almost rudimentary when you compare the technology they have available with that of Macedonia's big boys, but nevertheless, Tony Brzanov is a larger than life character in his cellar, making wines according to his own tastes. His passion is for big, rich wines with plenty of power, fruit, tannin and acidity.
Ever since I first tasted the Brzanov wines in January 2014, as part of creating the the Macedonian Wine Guide with Ivana Simjanovska, I've been able to follow their progress from distance. At that time the company was young and only on their 3rd vintage but Brzanov's wines were unmistakably big and bold. For many, myself included, they were too too much. Tremendous amounts of extraction on all fronts rendered them an assault on the senses.
My first impressions weren't great. I tasted them in isolation from the bottle, without the presence of the man behind the label. The tannin and acidity almost sucked the life out of me. But over the years two things have happened that have moved us towards each other. Not only have I come to appreciate the subtlety and shades of gray involved in the wine making process, Brzanov's wines have improved considerably. There is undoubtedly more precision and finesse in the wines, a result I think, of greater discernment in the vineyard and a more reserved approach in the cellar. The wines still bare all the signs of their maker's lust for power and structure, but in most of the wines there is balance and hope for the future.
Brzanov purchase all their fruit from vineyards in both the Veles and Tikves regions. Both Pinot Noir and Tempranillo are purchased from the village of Caska, just to the south west of Veles. Syrah comes from Bogdanci, considerably further away and virtually on the Greek border. Curiously, they blend Pinot Noir and Tempranillo to produce a rather unusual wine. I personally don't think it works, but as I've subsequently learned to appreciate, patience pays with these wines. To my knowledge there is nobody else in Macedonia using Tempranillo in their wines.
One night in September 2017 I was very kindly invited to join Tony and his Dimitar to help them take in and de-stem Syrah trucked up from the south of the country. After hours of manual work with all the camaraderie of harvest time, and over a hot pot of lamb and liver, Tony explained his philosophy on wines. "It's a labour of love. I don't do this for money. I do this to create wines that I love." As he pulled the cork on a bottle of 2012 Cabernet Franc, a wine he was extremely proud of, I got to see the eventual charm of the monster.
---
Pinot Noir / Tempranillo 2015 by Brzanov Winery A blend of 83% Pinot Noir and 17% Tempranillo; it's an extremely powerful, perhaps even aggressive wine. It's hard to find much fruit under the heavy shelling of tannin and acidity above, but notes of chocolate and coffee do come through prominently from an 11 month stay in custom toasted Serbian oak. Still too early to judge it, but undoubtedly a warm climate wine with plenty of body. One to keep in the cellar for now. (September 2017)
Syrah 2015 by Brzanov Winery An attractive nose typical of the variety with lots of black fruit and subtle aromas of leaf. It's uncharacteristically approachable for a Brzanov wine, but the tannins  Soft and approachable. (September 2017)
Cabernet Franc 2012 by Brzanov Winery An open, attractive aroma of blackberry, lead, leaf and leather with subtle notes of coffee and smoke, the palate is full bodied and structured with mellow notes of forest fruits. (September 2017)