Travel - Visiting Popov Winery in Tikveš, Macedonia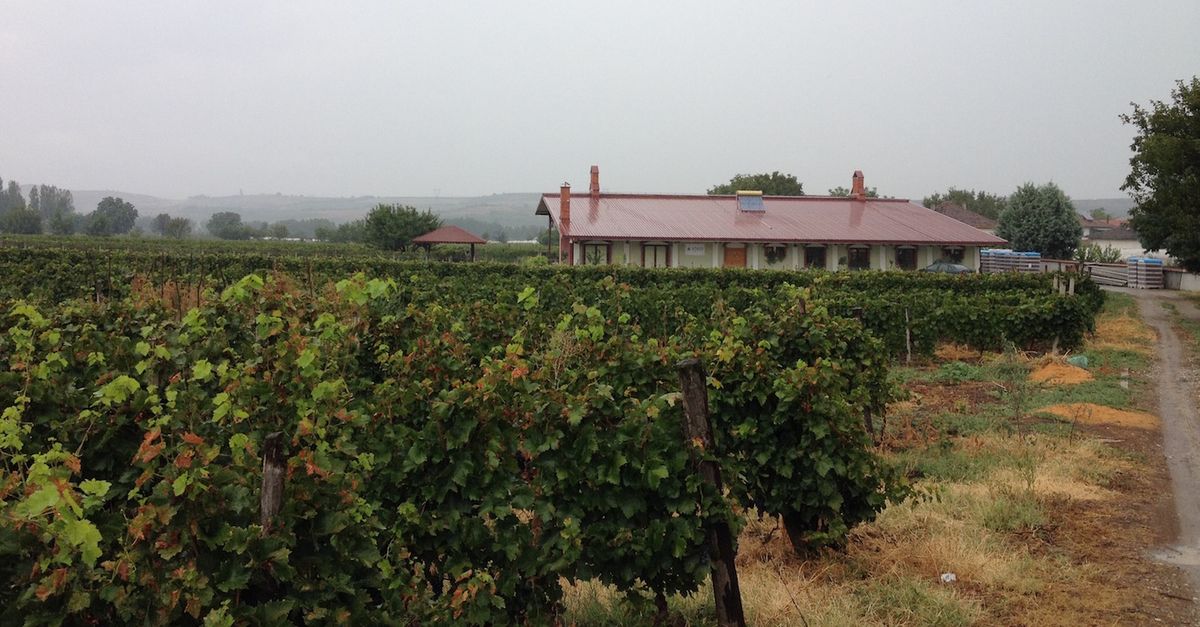 Ever since my first visit to Popov back in 2014 I've been an admirer of what Popov Winery, nestled in the heart of the Tikves region, just north of Kavardarci, are trying to acheive. This small boutique winery is well worth following. Their white wines in particular are fresh, quirky, laden with fruit and alive with a mineral personality that's rarely seen in Macedonia. Under the stewardship of winemaker Petr X they are one of just a handful of wineries that seem genuinely interested in showcasing the individual character of their territory.
In 2001 Vladislav and Zoja Popovi purchased their first vineyard, a parcel of just over a hectare close to the village of Sopot and not far from the larger town of Kavadarci. Despite the modest beginnings, the project gained momentum and in 2003 work on a new winery was completed. By 2009 the Popov estate had grown to encompass 45 hectares (all within the vicinity of Sopot) and the winery could boast the potential to produce up to 300,000 bottles a year.
Their most recognised site is in the village of Smolnik where the soils are a mix of clay and stone and it is here that they grow their flagship Chardonnay from vines planted about 15 years ago. In the hot months the soils help retain moisture and alleviate pressure on the vines but nevertheless, this a continental expression of the grape. The white wines naturally carry the warm climate characteristics of the Tikveš region where summers are often scorching hot with temperatures approaching 40 degrees.
Yet, Chardonnay from the Smolnik site in particular seems to be able to produce wines that are more restrained than others in the region. While it is rich and tropical with plenty of body, the fruit notes are complex and the wines are balanced, somehow finding just an extra touch of freshness.
Their other notable vineyard site is in Vrshnik where Pingo Grigio is cultivated. There is much more sand here and this makes for a fresher, greener wine.
Some basic red wines are produced but the more serious wines are those that spend time in barrique in custom built underground cellar. I've been following wines such as the 2009 Gran Cuvée for almost a decade and have watched with fascination the development and evolution of the red grapes.
The winery grows Temjanika, Chardonnay, Sauvignon Blanc, Zilavka, Pinot Grigio, Pinot Noir, Vranec, Cabernet Sauvignon and Merlot.
---
Tikveš WCGO Gran Cuvée 2009 by Popov Winery (Tikveš, Macedonia) A stunning blend of Merlot, Cabernet Sauvignon and Vranec that has benefited from a good eight years of maturation. The palate is mature with an almost compote-like black fruit chracter, particularly plums and blackerries while notes of smoke, leather and liquroice emerge too. Complex and ethereal, this is a reminder of why there was so much exciement about Macedonian wines towards the end of the last decade. (September 2017)
Tikveš WCGO Chardonnay 'Smolnik' 2015 by Popov Winery (Tikveš, Macedonia) Really good. Some banana on the nose, typical of the variety and site. Balanced in the mouth and backed up by good acidity. Some almonds on the finish. (November 2016)
Tikveš WCGO Chardonnay 'Smolnik' 2013 by Popov Winery (Tikveš, Macedonia) Lots of ripe fruit on the nose, particularly banana. Some bread complexity comes through also from two months of contact with the lees. In the mouth there is more warm climate Chardonnay character making it rich and round but it is the elegance which characterises this wine. It holds its freshness and delivers a gentle finish of tropical fruit. Only about 10,000 bottles produced. (November 2016)
Tikveš WCGO Pinot Gris 'Domaine Vrsnik' 2014 by Popov Winery (Tikveš, Macedonia) Brand new vineyard giving its first fruit. Very intense bit not bad. There is some varietal citrus on the nose that becomes a little more tropical in the mouth. The finish is powerful. Nice potential for the wine but could maybe do with some restraining. (November 2016)
Tikveš WCGO Temjanika 'Smolnik' 2012 by Popov Winery (Tikveš, Macedonia) Very aromatic, lots of tropical fruit and very intense.
Tikveš WCGO Sauvignon Blanc 'Smolnik' 2012 by Popov Winery (Tikves, Macedonia) Very aromatic, unusual tropical fruit for Sauvignon Blanc, slightly tart in the mouth, viscous, oily, good concentration of citrus fruit.
Vranec Reserve 2007 by Popov Winery (Tikveš, Macedonia) Mature  dark fruit on the nose, almost compote like. Rich and ripe with lots of chocolate notes coming through. Full-bodied and well structured its a good effort.
Merlot 2010 by Popov Winery (Tikveš, Macedonia) Sweet, oaky and mature nose, slight cola, soft and velvety on the palate.