Producer Guide: Stobi Winery (Tikves, Macedonia)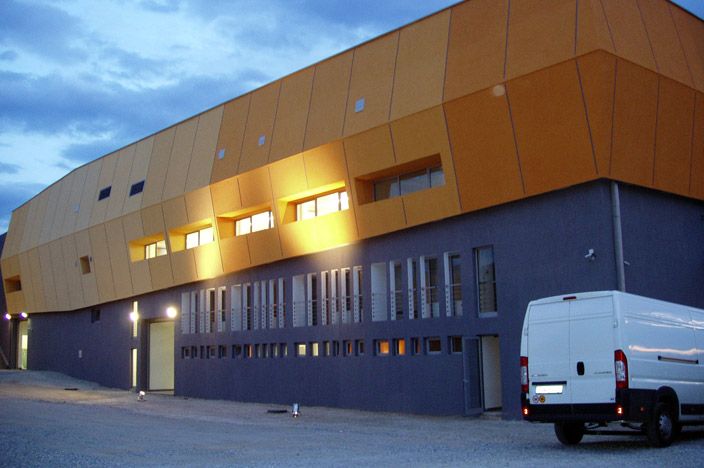 ---
Stobi Winery, located in Gradsko, is one of the key players in Macedonia and one of the most recognisable Macedonian brands now found in international markets. With 600 hectares of vineyard and a brand new state of the art winery that boasts a production capacity of four and a half million litres a year, Stobi is the producer most likely to set the bar for accessible, value driven wines from both international and local varieties.
Although Stobi only released their first vintage in 2010, it's a well funded venture that is likely to make an instant impact with consumers. Stobi's wines are clean, modern and well packaged, with vivid references to Macedonia's ancient archaeological and cultural heritage. The famous Stobi ruins, which lie almost next door to the winery on what was once the main road from the Danube to the Aegean Sea, feature a mosaic peacock, an image that has been cleverly incorporated into the company logo and is proudly embossed on the labels.
The majority of vineyards are also situated in Gradsko, 65% of which are given over to red varieties such as Vranec (200ha) Pinot Noir, Merlot, Cabernet Sauvignon, Cabernet Franc, Syrah, Petit Verdot, Prokupec and Kadarka. The white varieties planted are Zilavka, Zupljanka, Rkaciteli, Smederevka, Chardonnay, Muscat Ottonel, Italian Riesling and Rhine Riesling. Unlike many other wineries in Macedonia though, Stobi only produce wines from their own vineyards and as such the first . With an average age of 20 years these vineyards are now at an optimum age for producing a good healthy crop of fruit capable of producing good quality wines at all price levels.
The oldest vines and therefore probably the most interesting, are found in the villages of Ramnishte and Aerodrom in the area of Gradsko and are around 35 years old. Here Vranec is grown in alluvial soils, particularly clay and silt but there are also areas of sand and gravel based soils. This Vranec ultimately ends up in the two key red wine products, the Premium Vranec Veritas and the Vranec led blend, Aminta.
Stobi wines are available in four different categories; the Premium, Elite, Classic and Traditional and their range include 24 different wines. The winery has a beautiful and stylish new restaurant with capacity for 100 people, as well a wine tasting room overlooking the impressive 300,000 Liters barrique section of the winery. In addition, Stobi offers wine tasting tours, as well as visits to the nearby archeological site, Stobi, after which the winery is named.
---
Tikves WGO Merlot 'Alexis' 2013 by Stobi Winery Slightly green on the nose but with juicy black fruit coming through. In the mouth it's a full bodied, powerful style with prominent acidity and plenty of tannin. (November 2016)
Tikves WGO 'Aminta' 2013 by Stobi Winery A blend of Vranec, Merlot and Cabernet Sauvignon, it walks the line between ripe concentrated fruits and soft, velvety tannins. It's rich but rustic showing varietal character. A little one dimensional but lots to like. (November 2016)
Tikves WGO 'Aminta' 2011 by Stobi Winery Very floral with herbal notes leads into a rich and elegant mouthfeel alive with ripe black, cassis and succulent vanilla tones. It's heavily extracted but softened with time and kept alive but fresh acidy.
Tikves WGO Vranec 'Veritas' 2013 by Stobi Winery Very enjoyable. It's unusually restrained for the variety and boasts good black fruit composition; there are some herbaceous notes and in the mouth, lots of dry velvety tannin and concentrated length. Interesting to see how this wine develops.
Tikves WGO Vranec 'Veritas' 2011 by Stobi Winery 
Dark ruby colour exudes dried plums on the nose with layers of chocolate, Blackcurrant and liquorice. It's a complex wine, with notes of mint, coffee, vanilla and rich black fruit one the palate. It's rich and powerful and not one for the faint hearted.
Tikves WGO Syrah 'Barrique' 2013 by Stobi Winery Delivers powerful blasts of black fruit but lots of varietal character. Lovely earthy complexity comes through while the palate shows signs of its six months in oak. Still manages to be restrained on the finish.
Tikves WGO Syrah 'Barrique' 2011 by Stobi Winery This is really very good. Lots of blackberries and leather with subtle notes of black pepper and vanilla coming through with time. In the mouth it is full bodied with piles of jammy fruit, liquorice and vanilla that descends towards a smoky, balanced finish.
Tikves WGO 'Antigona' 2013 by Stobi Winery Blend of Vranec, Cabernet Sauvignon and Merlot, it's fruity on those nose, perhaps a little stewed. Lots of ripe fruit in the mouth with plenty of spice to partner a slightly sweet finish.
Tikves WGO 'Chardonnay Barrique' 2013 by Stobi Winery Aromas of mashed banana, daffodils, hazelnuts, and hints of spice on the nose. Rich, but not without elegance it partners tropical fruits with baked bread, hazelnuts but all the while held together by refreshing acidity. It finishes soft, with closing notes of vanilla and pear. Good complex wine.
Tikves WGO 'Chardonnay Barrique' 2012 by Stobi Winery Nice rich nose with notes forward notes of vanilla and brioche. There's some touches of peach and pear coming through also. The palate offers up a sumptious texture of rich buttery brioche, stone fruit and white flower. It's seductive, with a ripe, fleshy body and lots of heavy fruit. Don't let that put you off. The acidiy is there and this impressive vintage builds on an equally impressive 2011.
Tikves WGO Rkaciteli 2013 by Stobi Winery Attractive yellow-green colour. Very fresh on the nose with aromas of lemon and cucumber; the palate flashes with notes of lemon and lime and sends out notes of basil. The acidity is good and the finish nice and balanced.
Tikves WGO 'Classic' Petit Verdot 2011 by Stobi Winery Very spicy on the nose. Good all round overall and a taste that is black fruit driven.
Tikves WGO Premium Merlot Barrique 2011 by Stobi Winery Delicious nose of rich forest fruit with a touch of compote. In the mouth the wine is big and heavy, equally rich in dark berry fruits, prunes and savoury smoke. Although well structured and very ripe, there is just enough freshness to keep it interesting.