Producer Guide: Tenuta delle Terre Nere (Sicily, Italy)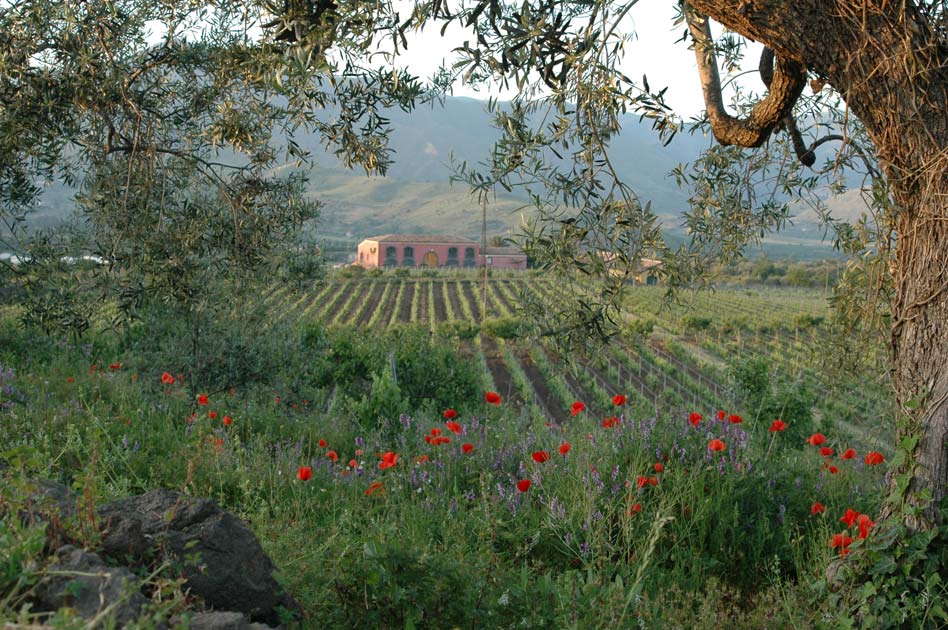 Marco de Grazia has been producing wine on Etna for 15 years and has built an enviable reputation for making iconic wines that are both approachable in youth but also continue to develop positively over time. His wines achieved minor cult status in the late 2000s when considered amongst a wave of early examples of Etna reds that, to their credit, drew comparisons with terroir driven Burgundies; these comparisons would ultimately shape today's feeling, that this little corner of Sicily is one of the trendiest winemaking areas in the world.
Today production continues with the upmost regard for its origin. The wines are accountable to the land. The estate therefore is set apart from others by its decision to vinify and bottle each of their vineyards separately and by doing so, seeks to highlight the inherent characteristics of individual sites. It's a familiar idea now, but 15 years ago it completely revitalised the wine scene on Etna.
In the loosely arranged cru system of Etna, recently articulated in law, the company owns land in four key plots; located in Calderara Sottana, Santo Spirito, Guardiola and Feudo di Mezzo, they all fit neatly within the confines of Randazzo and Castiglione di Sicilia, arguably the most important villages on the northern slopes of the volcano.
Tenuta delle Terre Nere's wines are often excellent, complex blends of Nerello Mascalese and Nerello Capuccio that exhibit a silky elegance and streak of vibrant red fruit combination that has become a consistent characteristic of the estate. They are fragrant and perfumed and it is easy to see why Nerello Mascalese reminds of Pinot Noir.
Every top winery boasts a flagship vineyard of course and here critics often look towards Calderara Sottana, a stony parcel of volcanic rock that possess vines ageing upwards of 100 years old. The ratio of stone to soil is so high here that visitors regularly note the apparent lack of soil.
At about 600 metres above sea level, the harvest is late, normally within the second or third week of October and it is this subsequent long growing season, the warm days and cool nights, that give these wines their aromatic personality and ethereal lift.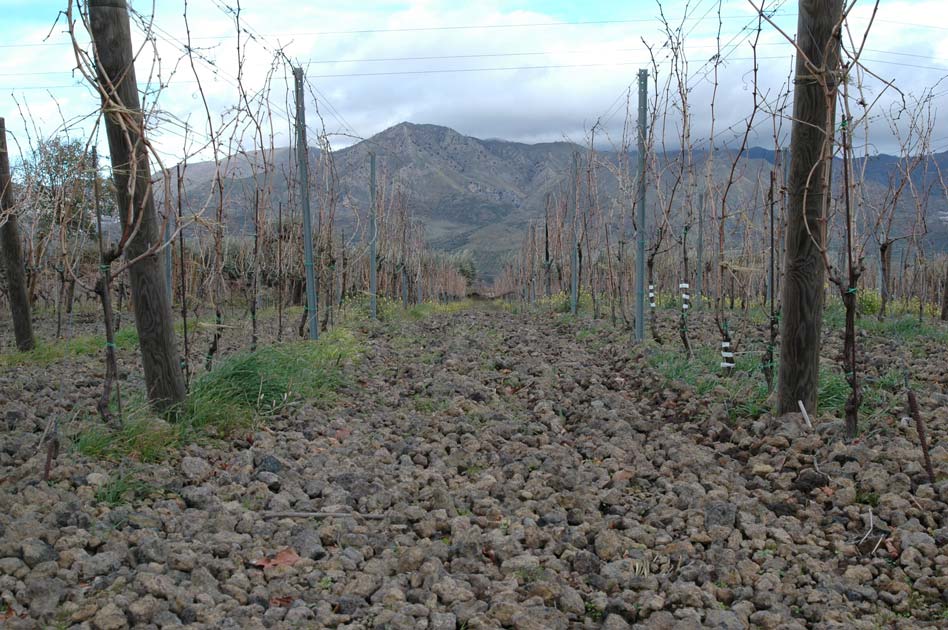 In Feudo di Mezzo the land gives a wine that although capable of lengthy ageing, is ready to drink earlier than the other wines. Again, the soils are poor; black volcanic rock planted with vines now approaching 80 years old produces around 6000 bottles a year.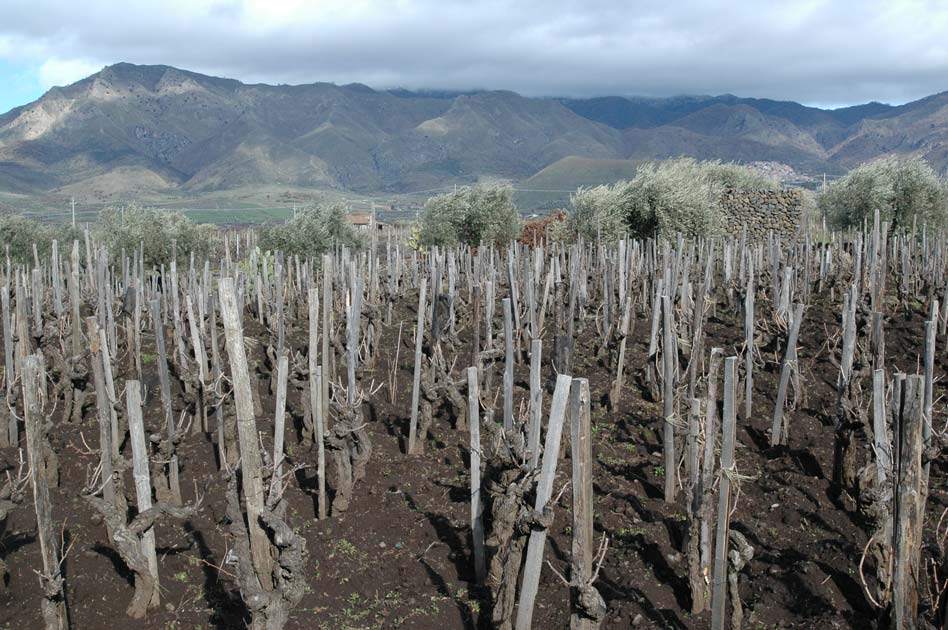 In the Guardiola cru, in the village of Castiglione di Sicilia, the company have their highest site of all, reaching almost 1000 metres. The vines are planted on steep terraces and in these poor sandy soils, they are almost exclusively ungrafted. Guardiola in particular produces a wine that requires more patience than the others; at this altitude the wine is decidedly fresh with plenty of acidity, they key to its appreciation undoubtedly time. Fans of delicate floral aroma however will love this wine.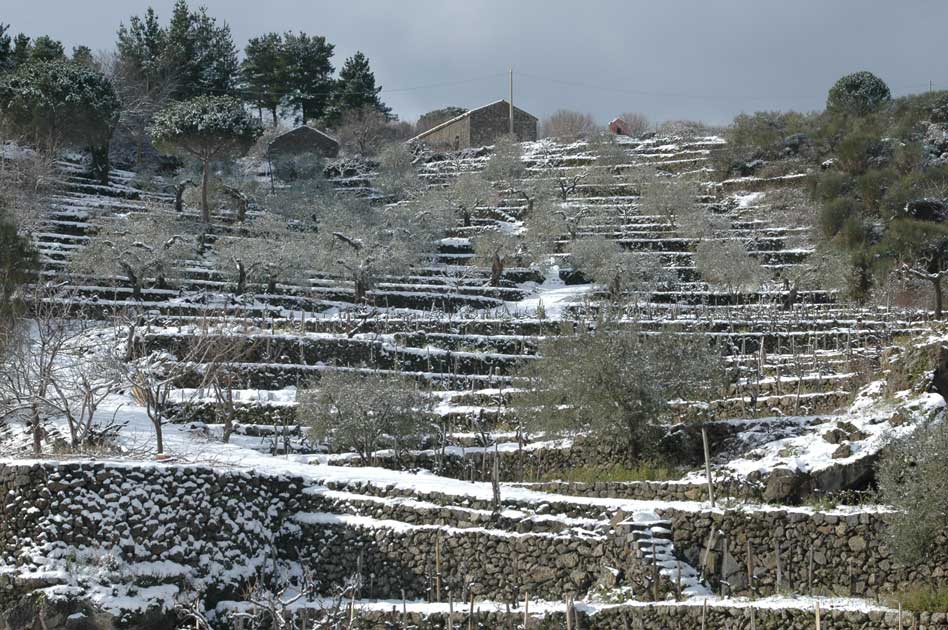 Descending the slopes towards the Alcantara valley, the latest acquisitions are planted in a cru known as Santo Spirito. These, their two most recent vineyard acquisitions, are lower in altitude than the other sites and provide bolder, fleshier wines.
In the cellar Marco and his team continue their ethos of respect for the process. The use of oak with the cru wines receiving around 18 months of maturation time before release.
Etna Bianco DOC by Tenuta delle Terre Nere
Etna Rosso DOC 'Feudo di Mezzo' by Tenuta delle Terre Nere
Etna Rosso DOC 'Santo Spirito' by Tenuta delle Terre Nere
Etna Rosso DOC 'Guardiola' by Tenuta delle Terre Nere
Etna Rosso DOC 'Calderara Sottana' by Tenuta delle Terre Nere