Articles
Column - Some thoughts on judging in Bulgaria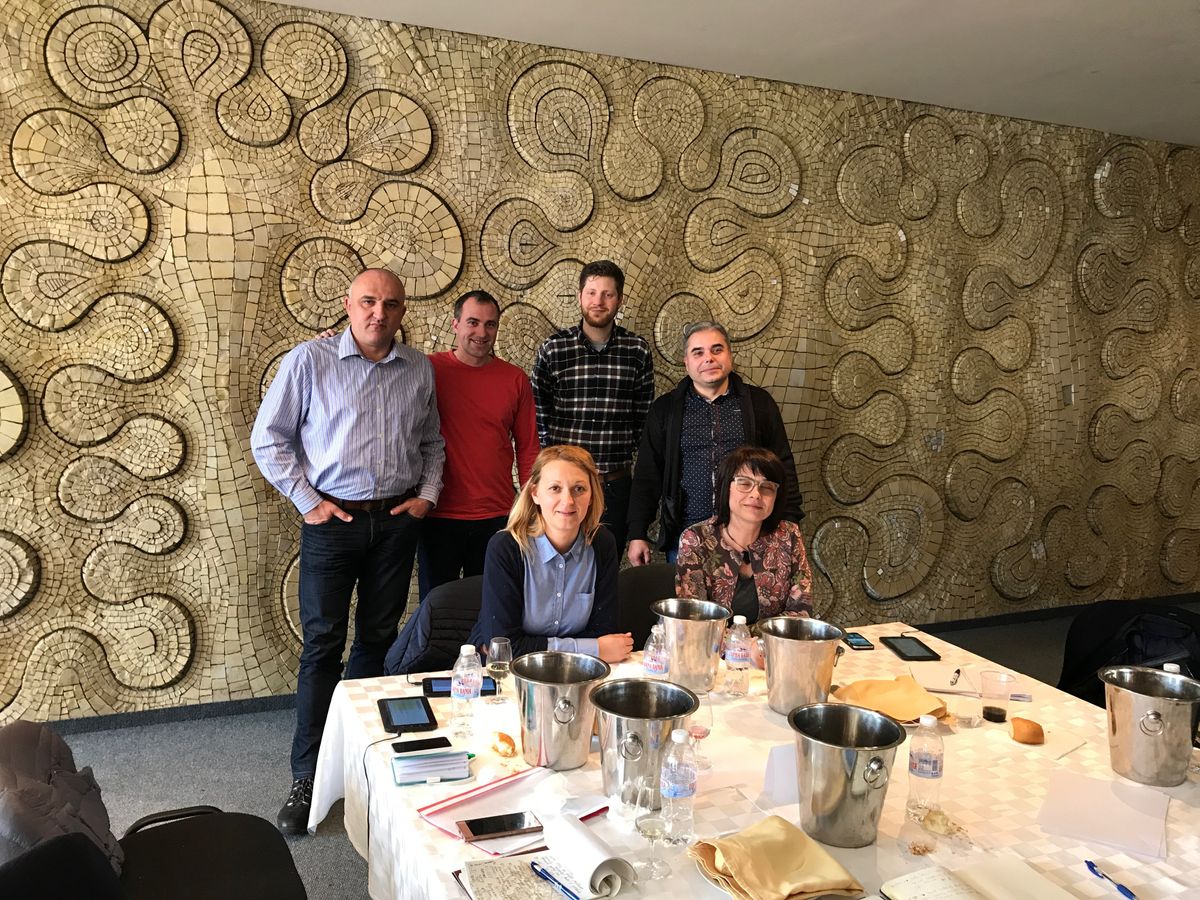 Last week I found myself back in Plovdiv, a guest of the Union of Bulgarian oenologists and a skeptical voice on the development of Bulgarian wines over the last few years. The purpose was to help decide, under OIV conditions, which local varieties should be awarded medals and trophies at the city's annual Vinaria wine fair.
The motivation behind my presence was to inject some international perspective to the tasting and it was felt, I suppose, that my recent work and travels in the region would allow me to temper my opinions with a familiarity of Balkan winemaking. Balkan varieties often require a more reflective approach, perhaps a conscious focus on seeking out their subtleties, or indeed conversely, to call out any garish trappings of power, fruit and oak. Although a simple task on paper, there are dozens of these grapes in general circulation, as well as a plethora of rare examples in experimental use. Their peculiarities in colour and style can be misleading and judging the line between lazy viticulture, bad wine making and the natural characteristics of the grape is not a straight forward endeavour.
So can I reveal a range of five star wines? Sort of… As a general observation wine competitions are flawed. The best wineries often don't feel the need to submit their wines as they are already deeply aware of how their wines measure up against those of their peers. Additionally, the benefits of winning some competitions' medals rarely equate to the risk of not winning. So as a taster, you never really know what you're going to get and tasting wine after wine in quick succession, you never really know if something good has slipped through the net. A feeling of making sensible calls comes from making similar assessments to other tasters. If everyone on the table thinks a wine deserves a silver medal then it probably does.
I feared for the worst though when the calibration wine, the sample chosen to warm up our palates and intercept any potential misunderstandings, was white Mavrud. This thick skinned Bulgarian variety, with its inky black fruit and distinctive medicinal character is quirky enough, but having it vinified without skin contact into a vitrtually clear white with plenty of body and little character was a curious move.
What, I thought to myself, is one meant to do with that? Wines should be rated objectively, as being good or bad examples of the style, but there must surely come a point when the style itself is a bad idea. Blue wine perhaps? I gave it the benefit of the doubt and moved on. Bulgaria has an abundance of international grape varieties, remnants of the early 1990s when the country hoped to compete abroad on price rather than territorial identity and in recent years I've waded through plenty of them with little enthusiasm. It's not that they are bad wines, it's just they are often better elsewhere, and while there are always exceptions to the rule, it's not a good basis for the Bulgarian wine brand.
Sadly, not only is Bulgarian Merlot or Sauvignon Blanc for example of little interest to the international consumer, the proliferation of these grapes has been to the detriment of the country's own rich heritage of autochthonous varieties. Old vineyards have been ripped up or have gradually fallen victim to abandonment and producers are frustrated with the inherent difficulties and complications (poor clones, unsuitable soils, lack of experience in the cellar) involved in making wines from them. There are obvious challenges to turning the corner, after all, as land or business owners you can't simply click your fingers and change things; it's a process that takes time. But this is undoubtedly what I feel Bulgaria should strive to do. As wine lovers we're seeking authenticity and the opportunities to engage with a territory and its traditions. It is this concept that draws us in, inspires us to explore and ultimately, leads us to return for more.
My tasting commission featured a range of local grapes. The faintly coloured Pamid was instantly recognisable, as was the deep purple notes of Rubin, while at the same time the aromatic and floral nuances of Temjanika showed plenty of attractive consistency. Yet when the winner surfaced there was an eruption of debate and disagreement. There were strong points to be made on all sides but in all likelihood the rules and structure of the competition hadn't facilitated the emergence of one of the country's higher quality wines. Or indeed, tasted blind, perhaps it had? Frankly, that wasn't my fight.
I may have just been lucky with my selections, or quietly duped, but my general impressions were that the standard of wines was much improved on those present at the same event last year, and, considerably better than the wines to pass through my table on previous visits in 2013 and 2014. Few wines (I remember only one) were sent back as faulty this year, and I was only occasionally compelled to pull my international WTF face, normally induced by aromas of cork taint, oxidisation and reduction, or mouth sucking dryness and face slapping alcohol.
It seems the days of excessive extraction and high alcohol are beginning to appear in the rear-view mirror. Producers seem to be getting the message. Big, sickly, one dimensional wines are not fun and although on first sip they may pack a punch and make an impression, they are still the tiresome loudmouth at the party, clamouring for attention without having anything to say.
For me it's clear which path Bulgaria should take going forward. Mavrud in particular shone like the North Star. Its luscious, inky texture and notes of blueberry, morello cherry and prune combined with menthol and herb provide perhaps the most distinctive characteristic of any of Bulgaria's indigenous reds. This is what the world should taste.
In the long run I'm sure this annual competition will prove to be a useful experience for everyone involved and one that forces producers to ask themselves the tough questions. For now, perhaps the lure of selling simple, fruity wines to Polish and Russian supermarkets is too great a prize to lose sight of, but I suspect chasing this kind of trade doesn't challenge the industry to really strive for a strong, sustainable national brand.