The Culture of Collaboration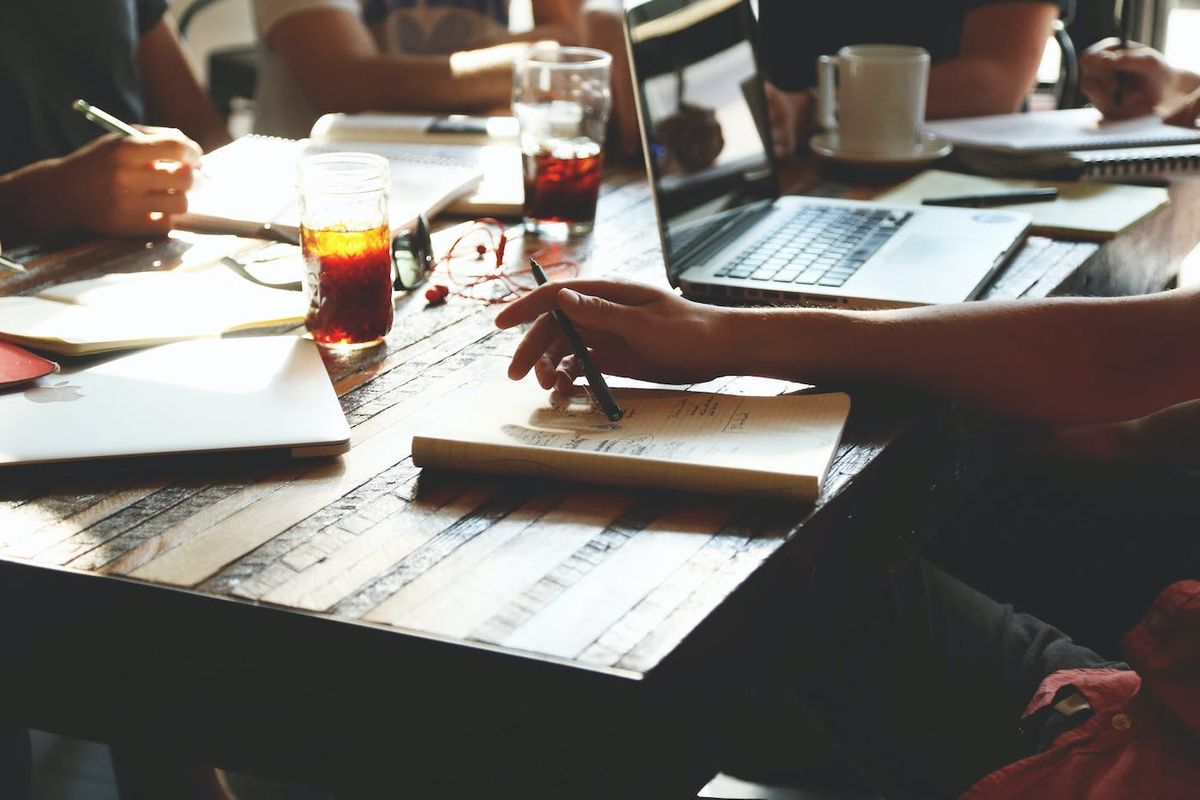 Interesting things tend to happen at the intersection of ideas. Some of the best innovations and original business creations have emerged from people who can re-assemble the theories of multiple disciplines and use the resulting combinations to solve problems in new ways.
Quite often these developments are brought about through collaborations, through people coming together strategically in pursuit of a win-win scenario. They are able to align their individual goals with that of a wider organisation or project and prosper as a result. Of course, the underlying theory is that more can be achieved by working together than in isolation.
With Tortoise Magazine now approaching its fourth issue, it's an idea I've been thinking a lot more about. I suppose it's because much of this pop-up publication's modest success (so far) is the result of collaboration.
The most obvious example of this is the relationship between myself and fellow creatives Sam Ryley and Kirsty Dalton. Despite there being little professional overlap between us we've been able to bring our expertise to the table and craft a new approach to local storytelling. Each issue now comes together through a combination of reinforcing our individual ideas and experiences, but at the same time allowing ourselves to be pushed out of our comfort zones.
The subsequent product has opened the door to all sorts of additional collaboration and we are now (as a publication and individually) benefiting from an exciting wave of momentum. I'd even argue it's one in which everyone involved feels able to gain from buying into our shared vision for journalism in Chester. This is something we could not have achieved without each other.
But I've also been involved in collaborations that haven't worked as well. Sometimes agendas aren't actually compatible. They may appear to be, but when tested, when placed under the stress of delivering specific work, they are in fact doomed to fail. Even though the desired goal is the same, unreconcilable opinions on tactics, strategies and accountability can derail even the noblest intentions.
A few years ago I collaborated on a book project chronicling the wines of Macedonia. At first glance it wasn't a difficult collaboration, but as time went on it became an uphill struggle. The challenge was probably twofold; an incompatibility of agendas was then exacerbated by a lack of adequate communication up front. Although the two of us eventually brought the project over the line, it had to force a route of compromise through which neither of us could carry out our true potential.
It's important to reflect on this because collaboration is now the dominant idea in business relationships. Whether its with employees, suppliers, customers or even competitors, the theory of collaboration is the vehicle believed most likely to deliver larger scale win-win outcomes.
But while that may be the case, it can be easy to become bogged down in the wrong types of collaboration. When agendas clash and compromises are made we can find ourselves working on projects that do not take us on the journey we wish, or worse, where we want to go.
Building a culture of collaboration is important, but we should all tread carefully. Embracing this modern approach unreservedly can lead to a multitude of half baked projects. Ultimately resources are finite and there are only so many places we can invest our time to deliver useful results. Collaborations are inherently  risky and when they don't work out, can be a terrible drain on time, money and motivation; they can also lead to a dilution rather than expansion in potential and freelancers and corporate leaders are equally vulnerable to this trap.
Collaboration is always a journey. There are ups and downs, risks and rewards, lots of uncertainty. I'd argue that the highs are more exhilarating and the lows more frustrating than anything that can be achieved or faced individually. But whether you're freelancing or in business, not thinking in these terms is a missed opportunity. Conversely, having embraced the concept, making sure that everyone's individual agendas are out in the open from the beginning is the fundamental prelude to making things work. After all, just because the people involved want the same destination, doesn't mean that the journey can or should be shared.