The evolution of Kamnik's 10 Barrels Syrah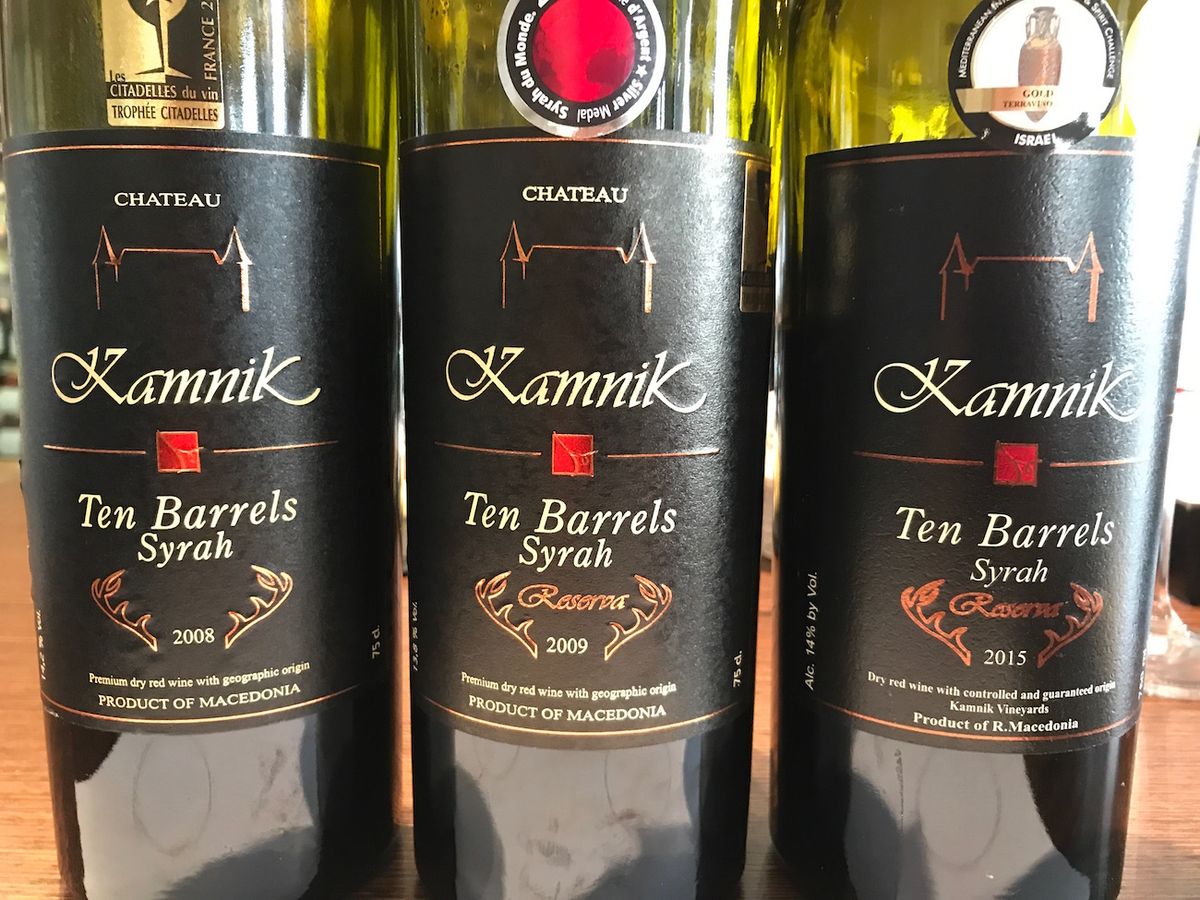 In modern wine making terms Macedonia is still a very young country. It only gained independence as recently as 1991, and with little history of quality focused producers before this, there is no legacy of fine wines for us to turn our attention to when seeking to understand today's wines.
Although Tikves Winery has more than 130 years of history to their name, and almost certainly boasts the largest stockpile of old wines, few were made to last and are preserved more as a documentation of company history than a serious statement about the longevity of their wines.
Tikves are now starting to cellar the top end of their production but Chateau Kamnik are also starting to hold back small quantities of wine, sensibly thinking about their legacy and their impact on national wine culture. Their archives are now housed in the winery tasting room and in a couple years will represent an impressive back catalog of vintages.
Award winning wines such as their Ten Barrels Syrah have always demonstrated the potential to improve. In youth they are big, full bodied and built with plenty of body, tannin, fruit and acidity. With the passing of time they soften, mature, gain elegance and personality and start to charm. With a little patience, maybe a decade, they reach their potential and flourish.
My recent tasting of the the 2015 Ten Barrels solidified the point. There were some quirky herbal, almost eucalyptus-like notes on the nose but hardly any fruit dared to raise its head. Still very young, the 12 months in oak had merely rendered the wine suitable for release; it was undeniably balanced, but offered only fleeting glimpses into what it could ultimately be.
I checked my notes for other vintages I'd tried. The 2010 (tasted in 2013) provided a similar experience. While there were signs it was going to be a truly excellent wine, the power and structure keeping it safe for the future blossoming ensured my notes suggested I re-visit it at a later date.
So, with all this in mind, and along with some willing accomplices from the winery, we endeavoured to open a couple of back vintages, look in on their evolution and ask whether they really would come of age in the manner we all hoped.
A few splashes later and the 2009 circled my glass with bot promise and controversy. Initially there was talk of cork taint. I found myself in agreement but within a few minutes I couldn't retrieve the evidence. Some stuck to their guns, some wavered and some agreed to disagree. Regardless, the aggressive energy so evident in the early wines had definitely dissipated leaving something all together more elegant and refined. There were luscious notes of hedonistic black fruit as well as some coffee, mint, black olive and pepper. The complexity was there for all to see.
Last but not least, the 2008, from perhaps the vintage of the decade, showed evocative notes of tobacco and smoke on the nose; as it opened up there were touches of chocolate, coffee and raisin. It was stunning. The fruit had subsided a little, rather than leaving it short, it had given way to tertiary notes of leather and gentle spice. The acidity had stayed the course suggesting another few years ahead of it, if not more.
It was a useful exercise. I usually greet Kamnik's premium range with respect and admiration (for the quality of the wine making is always apparent even from the tank) but also with a sense of apprehension. With no prior evidence of how their wines would feel a decade on, the 10 Barrels Syrah still represented a sort of watch this space wine. Not so anymore. I'd confidently fill my own cellar with them and claim that these wines, with some patience, will provide an incredible drinking experience, elevated all the more by the sense that they represent the beginning of Macedonia's next chapter of wine history.