Alsace Grand Cru - a trusted classic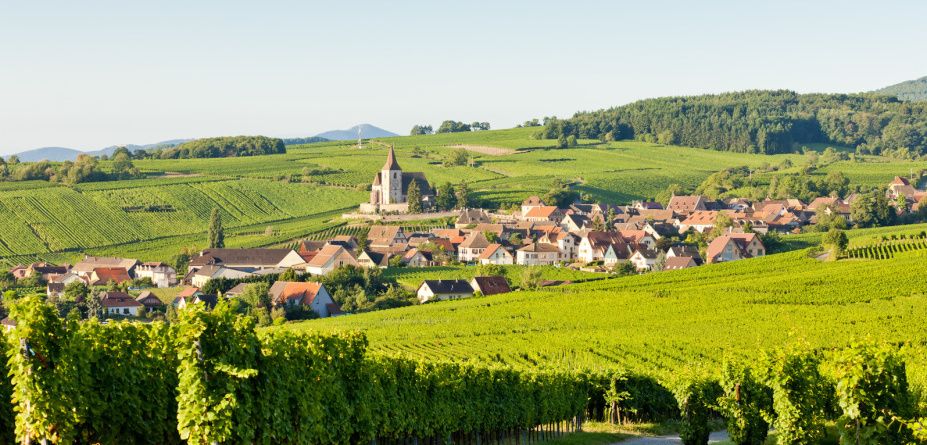 With so many fashionable wine regions making names for themselves at the moment, one can be forgiven for overlooking the tried and trusted favourites. Alsace, and in particular the 50 plus Grand Cru vineyard sites that decorate this fiercely independent stretch of French countryside, are obvious candidates for neglect.
Despite a famed wine making tradition that goes back generations, the lack of serious red wines grown in these parts and the currently unpopular selection of white grapes on offer in Alsace can struggle to excite.
Although grown amongst the pretty patchwork of rolling hills and fairytale houses, Germanic whites such as Slyvaner, Muller Thurgau, Pinot Blanc and Riesling are simply not in vogue with contemporary audiences. They somehow lack that wow factor.
Yet in a region that receives more sunshine hours than anywhere else in France, great wine is undoubtedly made here. 51 different vineyards have been marked out as making absolutely outstanding wine that exhibits clear individual traits of terroir, each one inherently different to the other.
With strictly controlled yields, some of these sites, or 'Liu Dits', have achieved international notoriety. Names such as Geisberg, Eichberg, Schlossberg and Schoenenbourg would be at home in any serious cellar.
Although a handful of key wines have been rebranded by producers unwilling to participate in the Grand Cru system, the majority of the region's top wines are tributes to site specific winemaking and are labelled as such. Grand Cru will be marked clearly on the label.
These great wines are predominantly made from Riesling, a variety capable of immense mineral personality and aromatic complexity. Pinot Gris, Gewurtztraminer and Muscat are also permitted for use in Grand Cru wines but unfortunately each has its own brand shortcomings in the noisy world of consumer appeal. It is such a shame then that many enthusiasts are missing out as they routinely overlook and ignore these charming Vin d'Alsace.
Yes, there are now great wines being produced in unconventional places all over the world, wines made in innovative ways and with rare grape varieties that all deserve our attention. We should of course try them. All of them. But every so often we must return to the classics, to the old masters, to those that came first in order to remind ourselves just what greatness is.
So if I had just one vinous recommendation to see out Spring with, it would be to compare and contrast a handful of Alsace Grand Cru wines. Search out Riesling with a decade of age to it, try some late harvest Gewurtztraminer, dig out Muscat from vineyards such as Hatchbourg or Goldert and challenge your perceptions of Pinot Gris with examples from Marckrain and Gloeckelberg.